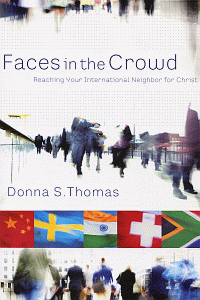 Faces in the Crowd
Reaching Your International Neighbor for Christ
Product Details
Will You Speak Their Language?
Gone are the days when we truly knew our neighbors. Everyone is on the move—from city to city, state to state, country to country. Our cities and towns are becoming more and more culturally diverse. With this change comes a greater responsibility. We are called by Jesus in the Great Commission to go to all the people of the earth. Now they are coming to us. But will we seize this opportunity? In Faces in the Crowd, Donna Thomas helps believers move past the obstacles that prevent them from sharing their faith with the international missions field that now resides right down the street. You will soon master the basics of conversation starting, relationship building, and working faith into conversations. Overcome your fears, hone your skills, and reach your international neighbor for Christ.
About the Author
Since the 1960s, Donna Thomas has had the remarkable privilege of training church leaders in countries as far away as China, Russia, Egypt, and India. She's been to more than 70 countries; she can pilot a single—engine plane; and, with her late husband, Chuck, she cofounded Project Partner with Christ. She more recently founded Christian Vision Ministries and speaks to numerous audiences across the US.
Donna has experienced the rewards of accepting God's direction in her own life, and she inspires and encourages others to step out in their callings. Taking risks for the Lord's work has provided Donna with scores of thrilling experiences. Five decades of experience give her credibility as she challenges you to move out of your comfort zone and into the plan the Lord has for you. Donna's life is the amazing story of how God can use an ordinary woman who made herself available for His purposes.
Endorsements
Donna has a theory about growing forever. She believes that people who see the world through Jesus's eyes are the ones who continue to grow. For Donna, seeing the world through Jesus's eyes has kept her open to change, a prerequisite for continual growth.
Donna has taken her incredibly rich life experiences and condensed them into a powerful, practical, and easy—to—read book for ministry in the marketplace. It is refreshing to me as a pastor to see step—by—step approaches that empower the average Christian to become a twenty—first—century disciple. Donna's love for the lost is contagious and will be felt in every chapter. I highly recommend that every pastor, ministry leader, and follower of Christ read this book and passionately share it with others. The fruit of doing so will be eternal!
Did you ever find yourself at a loss on how to reach out to the people of other cultures and religions in your neighborhood or workplace? If so, Donna Thomas's Faces in the Crowd is the resource you need. With colorful stories of average people making a cross—cultural connection, supplemented with action ideas you can use, Donna guides the reader on how to have an impact on the global village—from where you live right now.
Like Jesus, who told His disciples to lift up their eyes and look upon the fields that were white unto harvest, Donna Thomas helps us to be sensitive to the international community around us. This is a must—read for every believer because it will reformat your approach to Christian evangelism!
Donna is the real thing. She teaches from her practice. If you want to see how it's done, read her book.
Drawing from her vast experience in ministry, Donna has taken the fear and unknown out of evangelism. She has taken the seemingly difficult and made it easy. In this book, she gives us a very practical, yet amazing strategy for spreading the kingdom of God. It works. Whether it is your neighbor or people in the 'uttermost part of the world,' this is not theory—it works!
The charm of Faces in the Crowd lies in the stories. Donna tells how she engages unbelievers, especially internationals, in meaningful conversation and motivates readers to follow her lead. Observant about the world and insightful about Scripture, Donna makes us wonder why we never recognized such evangelistic opportunities for ourselves. End—of—chapter questions build your courage to view striking up conversations with anyone from servers to fellow travelers as opportunities rather than intrusions. A great read with potential to redirect your approach.