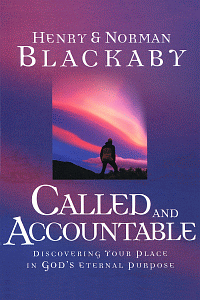 Called and Accountable
Discovering Your Place in God's Eternal Purpose
Product Details
Is there more to the Christian life than what I'm experiencing?
Could God somehow use my life to make a difference?
What do I have to offer Him?
God is not looking for qualifications or abilities; He is looking for a heart willing to obey and follow where He leads. God calls every believer into an intimate love relationship - a relationship that permeates every aspect of life, shaping us to be more like Jesus.
As we obey and release our lives to God's purposes, His call totally transforms us and becomes ultimately world changing. As He works in us and through us, He will accomplish exceedingly more than we can ask or imagine.
Walk worthy of the calling. - Ephesians 4:1
About the Authors
Henry T. Blackaby is the author of Experiencing God, which has sold 5 million copies and has been translated into 50 languages. He is president of Blackaby Ministries International, an organization he founded to help people experience God in a more intimate way.
Norman C. Blackaby currently serves as a professor at Dallas Baptist University in Dallas, Texas. Norman holds a doctor of philosophy degree in biblical backgrounds and has taught for two seminaries in the fields of backgrounds and spiritual development. He currently resides in Dallas, Texas, with his wife, Dana, and three children, Emily, Douglas, and Anne.