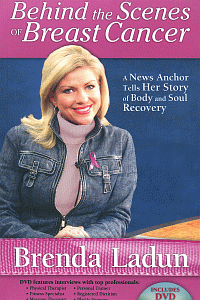 Behind the Scenes of Breast Cancer
A News Anchor Tells Her Story of Body and Soul Recovery
Product Details
You may wonder, How can life go on? The answer is hope.
No one understands better the ups and downs you feel than someone else who shares your struggles. Having a body and spirit ravaged by cancer, treatments, and countless doctor visits, author and news anchor Brenda Ladun shares with you the hope that has continued to blossom during 5 years of recovery.
"In the five years since I was first diagnosed, I've had an amazing journey of growing in faith," she writes. With the honesty of a best friend, Brenda takes you behind the scenes through her life's storms. She openly shares her struggles and her victories. As she recounts the way God has met her needs, she records her encounters with others and the miracles that took place in their lives.
Start your body and soul recovery.
About the Author
Award-winning prime-time news anchor and author Brenda Ladun is a breast cancer survivor, being cancer free at five years. When faced with her personal battle with breast cancer, she inspired the countless viewers who watched the nightly news for her chemotherapy treatment results and her courageous battle. She is the author of Getting Better, Not Bitter. In addition to news reporting and writing, she trains for marathons and is active in various outlets within the local community. She and her husband, Doug Bell, and their three children live in Birmingham, Alabama.
Endorsements
Brenda beautifully conveys her inner struggle, encouraging us all to live in the reality of God's closeness and desire to comfort. It is Behind the Scenes that we are conformed to Jesus and eternally healed.