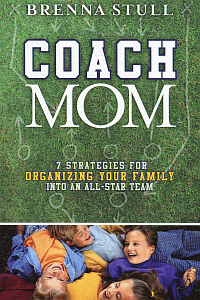 Coach Mom
7 Strategies for Organizing Your Family into an All-Star Team
Product Details
Do more than just survive your children's early years. Create an all-star team so everyone in the family wins.
With a little training from a veteran mom of five, Brenna Stull, learn to be effective and intentional in creating an organized and happy home where your children and your marriage are nurtured. As Coach Mom, "you set the pace and the tone, you cheer others toward their goals as you reach your own," says Brenna, "and you give the pep talk at the end of a hard day."
Coach Mom is a comprehensive playbook for organizing your family, your home, and your life for maximum success. You'll find easy coaching tips and how-tos, such as these:
Involving children in the chores
Effectively using outside help
Building morale and recognizing accomplishments
Teaching appropriate behavior and allowing reasonable choices
Planning creative, simple, fun times and special occasions
Decluttering your home and eliminating distractions
Organizing playrooms, work centers, storage spaces, and kitchens
Shopping to save money and time
Designing a plan for your own spiritual nurturing
About the Author
Brenna Stull, pastor's wife and mother to five children, is a professional home organizer. She is the creator of an eight-week home efficiency course designed to help women live a balanced life. Passionate and transparent, she is a popular speaker at women's conferences and retreats and Mothers of Preschoolers (MOPS) meetings. She has learned to effectively balance family, church, and community activities with personal interests, and her children honor her annually with a "Best Mom" award. Brenna, her husband, Chris, and their children live in McKinney, Texas.
Endorsements
Coach Mom offers great practical tips that help me bring order to my crazy schedule. Brenna reminds me that when God is at the center, I can be a better mom, wife, and woman.
If you're needing help keeping your sanity in the world of motherhood and wifedom, this is the book for you!
Coach Mom supports, simplifies, and celebrates the journey of mothers.
Mothers and families across America should read this book and put into practice Brenna's great and practical advice. We'll have super families as folks, young and old, become a Coach Mom.
This is just the help every young mother needs. Coach Mom will help you enjoy raising the next godly generation!