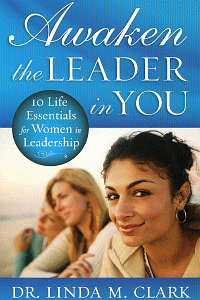 Awaken the Leader in You
10 Life Essentials for Women in Leadership
Product Details
Balance Life & Leadership
Whether it is in the workplace, the church, the community, or at home, women are leaders. With this leadership comes an ongoing tension in trying to balance all aspects of life. Wedged between obligations, needs, and dreams, the true leader in each woman is sluggish and short of its full potential.
Awaken the Leader in You provides ten essentials for bringing life into balance—the foundation of effective leadership. Grounded in Scripture and illustrated by stories of women in the Bible and in contemporary society, the principles crystallize in applicable content. With a host of practical ideas for leadership enhancement, Dr. Linda M. Clark coaches readers in awakening leadership skills as they discover a new blend of ingredients for balanced living.
About the Author
Dr. Linda M. Clark has been involved in directing activities related to women's ministries and Woman's Missionary Union for more than a decade.
A native of Arizona, she has lived most of her adult life in the western United States, though she's traveled extensively for Volunteer Connection and MissionsFEST projects. She has also traveled many times to Croatia to teach leadership skills to women in that war-torn nation.
Linda is an accomplished writer who has contributed to numerous magazines. She earned both her master's degree and doctorate in women's studies from Trinity Theological Seminary in Indiana.
She and her husband, Jan, have three married children and seven grandchildren, and call California home.
Endorsements
As leaders, we all are seeking that special secret that will allow us to achieve balance in our lives. In Awaken the Leader in You, Linda Clark gives a refreshing look at ten life essentials affecting leadership and offers biblical foundations and practical, easy-to-understand suggestions of ways for the leader to adjust her thinking in order to find balance. Awaken the Leader in You is also filled with stories a leader can relate to and in which she can see herself involved. This book is a must-read for anyone who wears more than one hat!
Awaken the Leader in You is a timely addition to resources available for women in leadership and for those who desire to engage women in discovering their leadership potential. Dr. Linda Clark presents a thought-provoking, user-friendly approach in her presentation of the essential areas of a woman's life, all the while balancing biblical foundations with the humor of daily life experiences. Well-written, real, and applicable for all women desiring to develop a spiritually balanced life and bring others along on the journey. The study guide option for women's small groups at the conclusion of the work adds to the value.