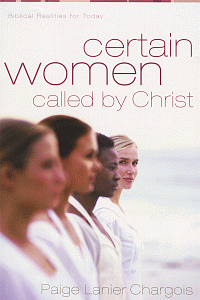 Certain Women Called by Christ
Product Details
You Are Called by Christ!
With life's demands, you may often forget that you are called by Christ. Using three simple verses from the Book of Luke, author Paige Chargois invites you to walk deeply through the pages of Scripture with her as she lays out 12 descriptive realizations about being a certain woman.
Paige will remind you that you are critical to the shaping of ministry in and through the body of Christ. She'll challenge you to model the lifestyle characteristics of those whom Luke penned. Through reflective questions, she'll help you examine your life at home, in the church, and in the world. You'll gain a fresh view of the church and a renewed love for the work of the Master. But, you are not alone. Male readers too will be challenged to recognize the role of women in ministry and react to this insightful composition.
Like the single woman on this cover who dares to look in a different direction, look toward Christ and set your eyes on Him!
About the Author
A dynamic and powerful speaker and teacher, Paige has served on staff of several churches, as adjunct faculty and chaplain for universities, and as a leader in nonprofit ministry. As national associate director for Hope in the Cities, she helped to develop processes, training modules, teams, workshops, and conferences that utilized the communicative tool of "honest conversations" or dialogue. She holds a master of divinity degree from Southern Baptist Theological Seminary and a doctor of ministry degree from United Theological Seminary.
Endorsements
A sensational writer, Paige has captured the essence of women in ministry.
Rich and wide-ranging experience in life and ministry, deep grounding in Scriptures, and a wealth of practical wisdom flow together in vivid style to make this a book you won't want to miss.
Incredible and well-written work! Paige writes with an earthy candor that characterizes a woman who has lived the lines she now pens.
A devout Christian, outstanding theologian, and academician, Dr. Chargois has studied the Bible with intensity and fervor. Here, she has written an outstanding analogy of the inclusion of women in service to Christ, supported and documented in the Bible.
This book will stir many hearts. It is an inspired book with a rare glimpse of God's intentions for all His children. The author is committed to deep reflection, love for the truth, and the need to tell it. The story of certain women must be told. And there is none better placed to tell it than this certain woman.
By reflecting on the witness of these certain women who followed Jesus, Paige Chargois rescues them from an unfortunate obscurity to which all too many people had consigned them. Thanks to her keen insights and personally grounded exposition, the author helps us to see how these women can invigorate contemporary notions of discipleship.
Dr. Chargois unearths the compelling stories of the women who responded to Jesus's call to accompany Him on His journey of ministry. Chargois is herself a certain woman, who long ago embarked on a similar spiritual journey, responding to God's call to be a risk taker and a world changer. She has found in these certain women the models of hospitality, service, courage, and creativity that will inspire both women and men to step out on the journey of faith in service to the Lord.
Paige Chargois has demonstrated that she is a spiritual force with which to be reckoned. Because of her scholarship, love for Christ, and love for the church, this is worth your time to read it.
What is it about the certain women who make the world a better place? Chargois suggests common qualities and leads readers to think about those who positively affect the lives of others. Who are the certain women in your life?
The Word of God is a two-edged sword with often the second edge left a bit rusty. In Certain Women Called by Christ author Paige Chargois polishes both edges. With her in-depth study, she helps readers see truths about God's call to women that we often ignore. She draws our attention to an edge worth polishing.