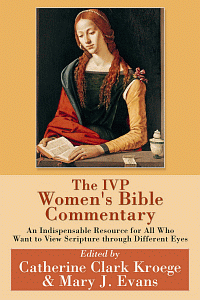 The IVP Women's Bible Commentary
An Indispensable Resource for All Who Want to View Scripture through Different Eyes
Product Details
What does the Bible say to a young mother at home nursing her baby?
What role models for intelligent, talented women can we find in Scripture?
What was everyday life like for women in biblical times?
What does Scripture say to women who have been abused or raped?
What can men learn from women by viewing Scripture through their concerns and insights?
This surprising commentary searches Scripture in light of the many theological, biblical, sociological and psychological concerns of women. Led by editors Catherine Clark Kroeger and Mary J. Evans, an international team of contributors offers thoughtful, engaging insight to complement more traditional approaches that have viewed Scripture primarily through the experiences and understanding of men. Fresh, practical and helpful, the IVP Women's Bible Commentary shows how relevant Scripture is to the legitimate concerns of men and women alike--and just how transforming God's Word can be when viewed from unaccustomed perspective.
This reference work will be welcomed by pastors developing sermons, by Bible study teachers and leaders preparing lessons, by college and seminary students researching study assignments, and by individual readers who want to broaden their understanding of the richness of biblical revelation.
Most books and resource materials on the Bible have been written by men. As a result, most of the issues addressed are portrayed through the perceptions of men. This volume represents the effort to ask questions differently. What happens when we look at Scripture through women's eyes? Are there ways in which the lives of both women and men can be enriched through such an effort?
This volume ably represents the fruit of such an approach. The international team of contributors to this commentary have searched the Scriptures, confident that they are God's Word to us when properly understood. Their discoveries serve to complement rather than replace those in other similar reference works. New and helpful insights show how relevant Scripture is to the legitimate aspirations and concerns of women and men alike and just how fresh God's Word can be when viewed through another lens.
Written in clear, nontechnical language, this invaluable aid includes:
individual commentaries covering all of the books of the Old and New Testaments seen through the lens of women's insights and concerns
key essays on the inspiration and interpretation of Scripture and the history of the intertestamental period and its literature
articles on important theological issues, including monotheism, the Trinity, atonement, sin, covenant and community, the purpose and value of human life, and the use and abuse of language
sidebars addressing women's occupations and skills, women's experiences such as childbirth and infertility, and women's roles in worship and leadership
descriptions of important women of the Bible, including, Sarah, Hagar, Deborah, Hannah, Martha and Mary, and Mary the mother of Jesus
short articles on everyday experiences and important cultural backgrounds
88 contributors from around the globe
About the Authors
Catherine Clark Kroeger is adjunct associate professor of classical and ministry studies at Gordon-Conwell Theological Seminary. With James Beck, she edited Women, Abuse and the Bible and Healing the Hurting, and with Mary J. Evans she edited The IVP Women's Bible Commentary and The Women's Study Bible (Oxford University Press). She is a coauthor (with Nancy Nason-Clark) of No Place for Abuse.
Mary J. Evans teaches Old Testament at London Bible College. She is the author of 1 and 2 Samuel in the New International Bible Commentary and Woman in the Bible, and she is a coeditor of The IVP Women's Bible Commentary.
Endorsements
The IVP Women's Bible Commentary is a stunning achievement and a landmark in the history of evangelical biblical study and evangelical commitment to the voices of women. It is also a fitting tribute to the dedicated work for decades of Catherine Clark Kroeger. The combination of the biblical commentaries and the more than seventy-five focused, topical articles makes this a rich storehouse of help and insight for a whole range of communities of faith.
This is a massive contribution, since with its focus clearly defined it actually gives us more than 900 pages of text, most of them in two columns, and more than 130 general and overview articles. More than 100 contributors, most of them women from a great variety of geographical origin and denominational affiliation have worked under the editorship of two noted biblical scholars, Catherine Clark Kroeger and Mary J. Evans. This book promises to be indispensable for those who wish to know and espouse the biblical view of women.
With its new exegetical insights and innovative articles, this commentary promises to be an important evangelistic aid by opening up Scripture to women from all backgrounds and clearly demonstrating that God's Word speaks directly to their needs today.
This unusual Bible commentary is a brilliant achievement that will enrich the lives and nurture the faith of generations of lay people.
I heartily welcome the publication of the long-awaited IVP Women's Bible Commentary as a pastor and seminary professor with a concern for the insights and experience women bring to the study of Scripture. This volume promises to become a cherished resource and reference for preaching and Bible study. The research and writing of a diverse company of contributors empower illuminating interpretation of the Bible for our times.
This unique commentary is an exciting companion to biblical study. In researching issues especially relevant to women, its authors dig deep into the scriptural text, uncovering gems that have lain unnoticed by a century of former exegesis. Every page offers fresh insights, and God's Word speaks out.
It is wonderfully refreshing to have available a commentary which highlights the valid experience and perspective of women- both those within the historical, biblical narrative and those who today faithfully seek to understand how the Word of God speaks to them. This commentary intentionally uses the history and insights of women to shine light on the text and is therefore a valuable resource for anyone who searches for a fuller understanding of Scripture.
A vital and long-awaited tool for understanding the message of Scripture from the perspectives of a diverse body of evangelical scholars. May Jesus Christ, who championed women's full potential, be praised.