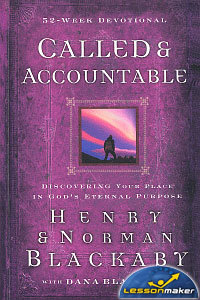 Called and Accountable 52-Week Devotional
Discovering Your Place in God's Eternal Purpose
Product Details
Hear, recognize, and understand the voice of God.
Throughout time, God has used ordinary people - carpenters, fishermen, servants, businesspeople, shepherds, doctors, mother, and fathers - to accomplish His work. The key has been that hey heard, they recognized, and they understood the essence of God's call. "The essence of the call," say the Blackabys, "is to an intimate and life-giving relationship with God, which is totally life transforming and ultimately world changing. "
Discover the unique assignment God has in mind for you. Through Scriptures, words of application and insight, and prayer, the Called & Accountable 52-Week Devotional leads you into a more intimate relationship with God. Taking one step at a time in faith, you'll find the joy of living a life worthy of your calling.
Heavenly Father, as we consider the way You choose to work through Your children, we ask that You use us in our generation to accomplish Your plans. Draw us close to You, open our eyes to see where You are working around us, and help us to be ready to obey today. Amen.
About the Authors
Henry T. Blackaby and Norman C. Blackaby, coauthors of the Called and Accountable workbook and trade book, are committed to encouraging revival and spiritual awakening in the United Stated and beyond. Henry, author of the widely acclaimed study Experiencing God, provides leadership to thousands of pastors and laymen across North America, and Norman currently teaches at Dallas Baptist University. Dana, Norman's wife and former director of broadcast media for Blackaby Ministries International, serves in various capacities related to women's ministry.