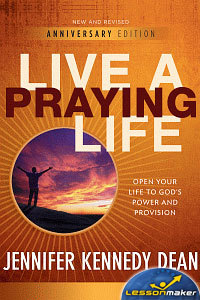 Live a Praying Life
Open Your Life to God's Power and Provision
Product Details
Discover the difference in having a prayer life and living a praying life.
This updated, 13-week study goes back to the biblical basics of prayer, cleaning out myths about prayer to rev up a powerful, ongoing connection to God that can invigorate every aspect of a Christian's life. Though prayer is essential to the Christian life, believers often have questions about prayer itself. Live a Praying Life tackles the complex theological questions of:
If God is sovereign, why pray?
Can I change God's mind?
If prayer doesn't give God new ideas or awaken love or mercy, then what does it do?
What part do faith, obedience, and forgiveness play in prayer?
How can the promises of God become real to me?
How can prayer open my life to God's power and provision?
Jennifer Kennedy Dean takes a detailed look at the purpose, promise, and practice of prayer, serving readers precious truths that can release the power of prayer in our everyday lives.
About the Author
Jennifer Kennedy Dean is executive director of the Praying Life Foundation and a respected author and speaker. Jennifer is the author of such books as Pursuing the Christ, Heart's Cry, Life Unhindered!, The Life-Changing Power in the Name of Jesus, Set Apart, and Secrets Jesus Shared. She is in demand as a speaker and has spoken in such venues as the Billy Graham Training Center at the Cove and Focus on the Family.
Widely recognized as an unusually gifted communicator of the deep truths of God's Word, Jennifer is a board member of Advanced Writers and Speakers Association and a member of America's National Prayer Committee.
Jennifer was widowed in 2005 after 26 years of marriage to Wayne Dean, her partner both in life and ministry. They have three grown sons. Jennifer makes her home in Marion, Kentucky.
Endorsements
I now consider Live a Praying Life one of the best books ever written on prayer.
Live a Praying Life shatters our fear that prayer doesn't really matter and truly opens ours lives to God's power and provision.