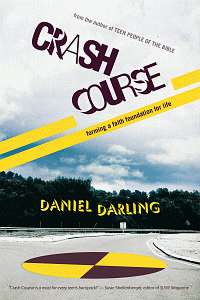 Crash Course
Forming a Faith Foundation for Life
Product Details
The clock is ticking...your life is changing...YOU are changing.
What's my future?
Who might I marry?
Where will I go to college?
These decisions are determined by who you truly are on the inside—what you've built the foundation of your life upon. So what is that foundation? Do you know WHY you believe WHAT you believe?
In Crash Course, Daniel Darling leads you on a fast-paced, 100—day journey to forming a solid foundation of faith for the rest of your life.
These short devotionals guide you
to know what you believe and why you believe it;
to make good choices;
to find direction;
to stay true in a world of lies; and
to find joy in a tough world.
About the Author
Daniel Darling is senior pastor of Gages Lake Bible Church in the northwest suburbs of Chicago. Author of Teen People of the Bible, Daniel writes a weekly teen column for Crosswalk.com and is a regular contributor to Stand Firm and Enrichment Journal. Daniel and his wife, Angela, have three children and reside in the Chicago area.
Endorsements
Crash Course clearly lays out the spiritual foundation you need to get over the hurdles and around the unexpected turns in life. When you consider the longevity of life, 100 days of packed-out devotions by Daniel Darling really is a Crash Course; one every Christian student needs to succeed in.