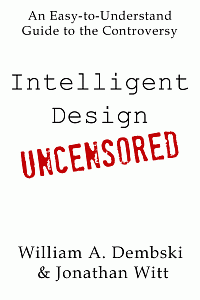 Intelligent Design Uncensored
An Easy-to-Understand Guide to the Controversy
Product Details
What is ID? Why is it controversial?
Intelligent design is surrounded by a storm of debate. Proponents and opponents have both sought to have their voices heard above the din.
Is it unscientific? Is it a danger to real Christian faith? Is it trying to smuggle God into the classroom?
Controversy can create confusion rather than clarity. So here to clear things up is Bill Dembski, one of the founders of intelligent design, who joins with Jonathan Witt to answer these questions and more. They plainly lay out just what intelligent design is and is not. They answer objections with straight talk that is down to earth.
You'll be surprised at how often smart people have misrepresented ID. You might be surprised to see exactly how they respond to what turns out to be misleading arguments.
Here is the book to make you intelligent about the whole fuss!
About the Authors
William Dembski (Ph.D., mathematics, University of Chicago; Ph.D., philosophy, University of Illinois at Chicago) is Research Professor of Philosophy at Southwestern Baptist Theological Seminary in Fort Worth, Texas.
He has previously taught at Northwestern University, the University of Notre Dame, and the University of Dallas. He has done postdoctoral work in mathematics at MIT, in physics at the University of Chicago, and in computer science at Princeton University, and he has been a National Science Foundation doctoral and postdoctoral fellow. Dembski has written numerous scholarly articles and is the author of the critically acclaimed The Design Inference (Cambridge), Intelligent Design (InterVarsity Press) and No Free Lunch: Why Specified Complexity Cannot Be Purchased without Intelligence (Rowman and Littlefield).
Jonathan Witt (Ph.D., University of Kansas) is research fellow at the Acton Institute in Grand Rapids, MI and senior fellow with Discovery Institute's Center for Science and Culture in Seattle, Washington. He was formerly an associate professor at Lubbock Christian University. He has published articles in Philosophia Christi, Touchstone, Literature & Theology, Windover, Princeton Theological Review and Philosophia Christi.
Endorsements
Who says accurate, cutting-edge science has to be a bore? Dembski and Witt make the biological nuts and bolts come alive and dance. They show that intelligent design is not only true, it's fun!