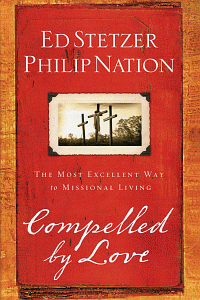 Compelled by Love
The Most Excellent Way to Missional Living
Product Details
Missional and love are two words that need to be spoken together. Love is one of the key ideas taught in scripture. In fact, God describes himself as love in 1 John 4:8. As that is the case, it is essential to seek an understanding of love if we are to live like Christ - especially if we are going to join him on his mission.
Missional is a new word to many readers. Simply defined, it is living like a missionary no matter where you are in the world – home or foreign field – focused on and living for the mission of God. We believe that the church needs to take on a missional attitude in our ever-increasingly unchurched culture. But, just as we would send out missionaries to foreign lands to love the people and lead them into a relationship Christ, we must fulfill both parts of the equation as well.
Compelled by Love has been written to reorient people to the biblical portrait of love in the heart of God, the establishment of the church, and the formation of individual believers. When the ethic of "love" is combined with the attitude of "missional" in the church, believers will follow after the mission of God.
About the Authors
Ed Stetzer, director of Research at LifeWay Christian Resources, has planted churches, transitioned declining churches, and trained pastors and church planters. He has taught at 16 different seminaries and has written dozens of articles and books. He and wife, Donna, have three daughters and call Tennessee home.
Philip Nation, a church planting missionary in north Metro Atlanta, has served in ministry areas including youth, single adult, pastoral, and Christian education. His writing includes contributions to Ed's Breaking the Missional Code and Planting Missional Churches, and numerous articles. Philip with wife, Angie, and sons, lives in Atlanta.
Endorsements
This is a great tool to help your church learn how and why we should live compelled by love. God calls us to nothing less.
Compelled by Love is a much-needed overview for how God's love compels us to love as He is loving in our world.
Here is an anthem of love that the missional church can sing with all its heart.
Compelled by Love is a fine contribution to spiritual reflection and church renewal.
Compelled by Love will challenge you to fully consider the love of God and recognize the missional responsibility and privilege we have of sharing His love.
Compelled by Love helps us recover the legitimacy that only love can bring. And God knows we could be a whole lot more loving!
Compelled by Love is a great read for those needing encouragement and direction for engaging in God's work in the world.
Compelled by Love gives us a much needed teaching on an overused word... This book is necessary reading to redeem our understanding of how love fuels missional living.
Compelled by Love is not for the faint of heart. It is for those who truly want to live missionally, to be the love of Christ to those around them.
Ed and Philip talk about the ultimate purpose of missions- to first love God with all our heart, and then to love others as we love ourselves. Love trumps mission, and together they equal missional love.