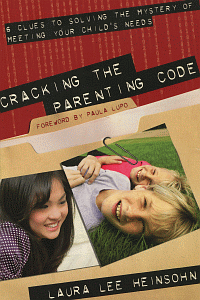 Cracking the Parenting Code
6 Clues to Solving the Mystery of Meeting Your Child's Needs
Product Details
Solve the parenting mystery. Connect with the heart of your child.
Why do some children grow up and then abandon the biblical values and convictions of their parents? What can parents do to prevent this all-too-common tragedy? Laura Lee Heinsohn's search for answers led to startling conclusions. Through interviews with more than 1,000 individuals about their own childhood and parenting experiences, she discovered consistently common themes. Nearly every person who walked away from their parents' lifestyle, convictions, or values reiterated: "I needed something from my parents that they couldn't or didn't give me." In Cracking the Parenting Code, Heinsohn identifies six critical needs of children and the six corresponding "clues" to meeting those needs and keeping the connections strong. These "top-secret" discoveries include:
The need to trust and feel safe and secure
The need to be heard
The need to be valued and to understand true value
The need to have purpose not pampering
The need for support
The need for specific boundaries
Building trust and communication between a parent and child is foundational to keeping children grounded for a lifetime. Cracking the Parenting Code is critical reading for all parents committed to instilling truth that holds fast through the years.
About the Author
As the founder of the Family Bureau of Investigation Relationship Workshops, Laura Lee "Lori" Heinsohn has had the opportunity to share the love of Christ while traveling around the world. Active in ministry for more than 20 years, she is also the founder of The Bee-Bop Kids, an international children's performing arts evangelistic team, and is a one-on-one parenting coach. Married to her best friend and fellow adventurer, Randy, she has two children, eight grandchildren, and has parented eight Brazilian exchange students. Laura and her family call Oregon home.
Endorsements
When my first child was born, I realized there was a gap in parenting literature. I had every book imaginable about what to feed my daughter, what to teach her, and what stages of development I should be seeing. What I didn't find in the literature was any discussion about what was happening to me! Cracking the Parenting Code fills the gap I noticed so many years ago.
Cracking the Parenting Code is a fresh look into the mystery of parenting. Laura Heinsohn has done a thorough job researching the truth behind relationships with our children. This book will motivate you to examine and investigate the clues to the heart of your child. Straightforward and bold.
Laura Heinsohn writes with compassion and wisdom about things all parents fear. She brings a fresh voice and original solutions to parenting issues. I'm adding this excellent book to my collection.
Cracking the Parenting Code is creative and engaging, inspiring though and encouraging action.
Laura's 'insight through experience' is invaluable to this incredible resource. Honest and transparent, she is not only sharing what she's learned through interviews and coaching, but through life lessons. This book can bring healing parents and healthy parenting to children.
Bravo for Cracking the Parenting Code! There is nothing more precious than really knowing the hearts of your children. This book is a delight and a breath of fresh air in helping me discover the path to building lasting relationships. I have started to implement some of these principles, and they are life changing. Follow the clues and you'll be on your way.