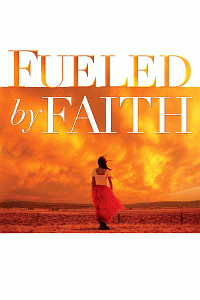 Fueled by Faith
Living Vibrantly in the Power of Prayer
Product Details
"Many Christians have had disappointing experiences with faith because they have mistaken 'belief' for 'faith.' They have determined what they consider to be the best outcome for a given situation, then focused their prayer on that end, only to have their faith take a hit from which it cannot recover."
Jennifer Kennedy Dean reminds us that the Bible commands: "Have faith in God" (Mark 11:22). We are challenged to put our faith in God, not in an outcome. We find freedom from doubt when we do not confuse what He's doing with how He's doing it.
We develop this kind of faith by trusting the promises of God's Word. As we trust in His promises, He gives us all the faith that we need. Just as Abraham was "fully persuaded that God had power to do what he had promised rldquo; (Romans 4:21), we build our own faith on the promises of God. Dean explains, "Faith responds to the promises of God; faith is stirred and activated by the promises of God. Because God's promises are the ground of faith, faith has a solid foundation upon which to rest." It is this faith that fuels our prayer, and it is our prayer that releases power in our lives.
Fueled by Faith guides us through Scripture to carefully examine faith as the key that unlocks all the riches, the authority, and the power of the Kingdom. If you feel inadequate or defeated in prayer right now, learn the truth of God's Word, and the truth will make you free.
About the Author
Jennifer Kennedy Dean is the executive director of the Praying Life Foundation and the popular author of several books and Bible studies, including Live a Praying Life, Riches Stored in Secret Places, and The Life-Changing Power in the Name of Jesus. Her speaking schedule includes such venues as the Billy Graham Training Center at The Cove, and she has written numerous magazine articles for such publications as Pray!, Decision, and SpiritLed Woman. She and her husband have three sons and live in Blue Springs, Missouri.
In Fueled by Faith, Jennifer writes from her own life lessons on the matter of faith. Following her brother's serious illness and subsequent death, she began struggling with questions of prayer and faith. She now says of the experience, "It compelled me to search for answers and understanding, and that journey has defined the call of God on my life."
Jennifer wrestles with the questions we all ask and reveals concepts that come out of her own determined search and study. She never skirts a tough issue, but delivers biblical, practical, solid answers about how to live a life fueled by faith, experiencing the vibrant life God intends His children to live.