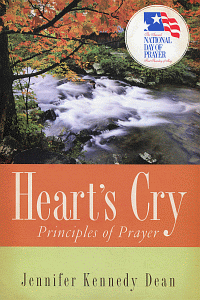 Heart's Cry
Principles of Prayer
Product Details
It is not the cry of the lips, but the cry of the heart that God hears.
God is inviting you, His child, to a deeper level of intimacy than you'll ever know with another person. When His presence fills your life, you begin to discover that the love language of your relationship is prayer.
As your heart delights in Him and you are filled with His Spirit, you'll understand what it means to give thanks in all things, to persistently present your cares to Him, and to intercede with boldness for the needs of others and for the work of His kingdom. Experience the outpouring of His generosity and faithfulness as your prayer life becomes consistently powerful and effective.
Heart's Cry is a penetrating look at the basics of prayer drawn from scriptural truth. Probing reflection questions at the end of each chapter will help you personally apply the principles taught. Review questions and a leader's guide make this an ideal resource for weekly group meetings or a weekend retreat.
About the Author
Jennifer Kennedy Dean is the executive director of the Praying Life Foundation and the popular author of numerous books and Bible studies, including Live a Praying Life, Fueled by Faith, The Life-Changing Power in the Name of Jesus, and The Life-Changing Power in the Blood of Christ. Best known as a gifted biblical expositor, Jennifer speaks regularly at national and international conferences and events. She has spoken at venues such as the Billy Graham Training Center at The Cove. She has written numerous magazine articles for such publications as Pray! magazine, Decision, and SpiritLed Woman. Jennifer and her late husband, Wayne Dean, are the parents of three grown sons.
Endorsements
Heart's Cry is the one book that will unpack the word prayer and give it meaning and significance in your soul.