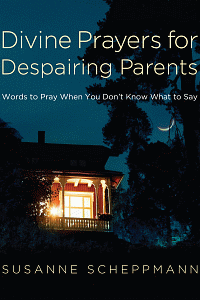 Divine Prayers for Despairing Parents
Words to Pray When You Don't Know What to Say
Product Details
When Your Words Aren't Enough
A parent's heart held a dream for his or her child. Now the dream is crumbling, as a child, a teenager, or a young adult in rebellion seems out of reach. There is hope in God's power—the despairing parent is sure—but the words for prayer shift without form in restless thought. The heart is crying out, but there's not enough strength of mind to summon the words.
A collection of 180 devotions and prepared biblical prayers, Divine Prayers for Despairing Parents puts into words the desperate whispers of the soul. Real-life stories woven throughout the book give hope to the praying parent. Written by a mother who lived through her own prodigal years and then those of her child, the book takes an empathetic approach to this gut-wrenching issue.
Through praying God's Word, the despairing parent establishes a new type of spiritual authority in the life of the wandering child. As God turns despair to trust, dreams can break forth anew.
About the Author
Susanne Scheppmann is an accomplished author whose work has appeared in several magazines including Today's Christian Woman, Pray!, and Journey. She has also contributed to numerous books and Web sites including crosswalk.com and is currently a speaker and contributor to Proverbs 31 Ministries. A graduate of UNLV in interpersonal communications, Susanne also holds a bachelor of arts degree in Christian studies from North Central Bible College. She and her husband, Mark, have three adult children and reside in Nevada.
Endorsements
What heart! Through stories of humor, compassion, and love, Susanne Scheppmann uses Scripture and prayer to offer heart-touching helps for the parents of prodigals. Devotions to help you through, Divine Prayers for Despairing Parents will whisper comfort to your soul.