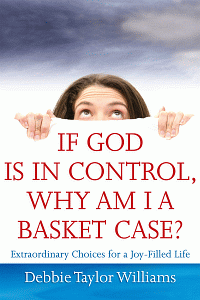 If God Is in Control, Why Am I a Basket Case?
Extraordinary Choices for a Joy-Filled Life
Product Details
Let Christ Lead You Through the Craziness of Life!
Most women have their share of basket-case moments, but how can this be consistent with God's work in our lives? Through an in-depth, eight-week examination of the Book of Colossians, author Debbie Williams leads readers to understand that basket-case living is not God's intention.
Women face daily responsibilities and expectations unlike ever before. With the pressure of overcrowded calendars and to-do lists; the never-ending accumulation of mail, bills, emails, and phone messages; and the imbalance of being pulled in so many directions, day-to-day life can be overwhelming. Intensifying pressure leads to creeping anxiety, which can eventually leave even Christian women feeling anything but joyful.
In the follow-up to her tremendously successful If God Is in Control, Why Do I Have a Headache?, Williams covers topics such as anger, forgiveness, temptations, relationships, and family responsibilities. This daily study prompts readers to a deeper investigation of the state of their hearts and minds. Fresh, practical advice guides women in choosing to turn those basket-case moments into extraordinary living in Christ.
About the Author
Debbie Taylor Williams has a passion for Christ, and it is evident in her energetic style and insightful personality. Having been diagnosed with ovarian cancer at age 29, Debbie brings spiritual maturity and biblical depth to her writing. Debbie's passionate focus to help others know God's life-changing power has led her to author numerous Bible studies, including If God Is in Control, Why Do I Have a Headache? Debbie also leads retreats and conferences and serves as keynote speaker at events throughout the United States.
A graduate of Texas Tech University, Debbie and her husband of more than 30 years, Keith, have two children, Taylor and Lauren, and call Kerrville, Texas, home.
Endorsements
Debbie Williams provides her readers with a fresh insight into Colossians in her latest book If God Is in Control, Why Am I Such a Basket Case? Every woman relates to feeling like a basket case in some area of her life, and Debbie explores them all! Just as Paul challenged the church at Colossae, Debbie challenges us to take an introspective look at areas we haven't completely surrendered to God.