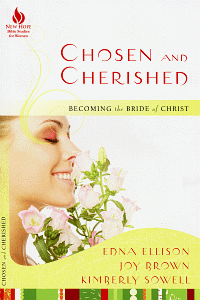 Chosen and Cherished
Becoming the Bride of Christ
Highlights
Easy-to-use, compact study
Ten fast-paced sessions
Includes testimonies of God's faithfulness in contemporary life
Leader's guide included
Prayer and journaling opportunities
Part of New Hope's Bible Studies for Women Collection
Product Details
Prepare for the Coming Christ
Women's wedding dreams and memories take on new significance in light of the marvelous truths pictured in Chosen and Cherished. As a woman prepares herself for her heavenly Bridegroom, she begins to discover an intimacy with Him greater than she ever imagined.
In this ten-lesson study, women will grow to understand how the wedding traditions of biblical times symbolize the ultimate marriage of Christ—the Bridegroom—and His beloved church. Through this understanding, a woman will draw nearer to Jesus as she learns to take her place as His bride.
Chosen and Cherished contains a word portrait of an ancient Jewish wedding. In living color, the authors paint images of ancient wedding customs, pointing readers to the spiritual significance for today. The book also features personal wedding stories from the authors and others. With humor and tenderness, these illustrations further demonstrate the beautiful promise of eternal life with our Bridegroom.
About the Authors
Edna Ellison, Joy Brown, and Kimberly Sowell are frequently invited to host women's retreats and conferences. While each has an individual ministry, their combined purpose is to share a message of wisdom seasoned with humor, boldness with mercy, and truth with joy. These women meet together regularly to relate the new and exciting ways God is working in their lives and to pray. Chosen and Cherished is a product of their praying and sharing times and their desire to inspire women to see God's hand at work in the ordinary events of life. While each author has published individual works, they also collaborated on A Month of Miracles.