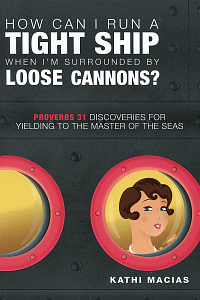 How Can I Run a Tight Ship When I'm Surrounded by Loose Cannons?
Discoveries for Yielding to the Master of the Seas
Product Details
Let the Captain Steer Your Ship
The perfect woman- excellent wife, cherished mother, impeccable housekeeper, thriving entrepreneur- all rolled into one. The Proverbs 31 woman looms large for Christian women today. Getting it all together. Keeping everything under control. Running a tight ship. But despite our best efforts, it seems there are always loose cannons rolling around the deck.
With humor and relevance, Kathi Macias shares her journey and struggle with Proverbs 31, ultimately discovering that there is a natural progression of growing in grace. As Christians, we begin as infants- on our knees, crawling. We then become toddlers- taking a few tentative steps and falling quite a bit. Soon, though, we learn to run- and what a joy that is! From there we begin to soar. Finally, we learn that the best place to be is back on our knees, completely dependent upon and surrendered to God, trusting the Captain of our ship to steer us safely home.
About the Author
Award-winning author Kathi Macias has written more than 17 books, including Beyond Me, the best-selling devotional A Moment a Day, and the popular "Matthews" mystery novels. With women's ministry as her primary interest, Kathi is a popular speaker for women's retreats, conferences, and churches. A mother and grandmother, Kathi and her husband, Al, call Southern California home.
Endorsements
If the title doesn't get you, the content will! Every woman I know is overstressed as she tries to be everything to everyone- the best of all things to all people at all times. If you can relate, read on. How Can I Run a Tight Ship When I'm Surrounded By Loose Cannons? is for you!
Note to marketing department: Retitle this book How Can I Get Any Work Done When I'm Surrounded by Funny Stories? The antics of Kathi Macias made me laugh out loud! As a recovering perfectionist and survivor of three workaholism-related crash and burns, I identified with Kathi's quest to do it right. Her transparency regarding both her faith and her foibles makes this book an essential read for any woman who struggles with that insidious 'not good enough' syndrome. Kathi has charted the way to smoother sailing for us all. Anchors aweigh!
The truths that Kathi shares are so resonant and relevant to those of us who seek and stumble and love our precious Lord. I laughed out loud in parts, I felt quietly pensive in parts, and I wondered how Kathi just 'knew' every woman's dilemmas. Kathi has a gift for writing to common experiences- her style draws us in, her humor and honesty keep us turning the pages with anticipation, and the faith lessons she shares stay with us.
This laugh-out-loud book is ideal for today's work-in-progress women. It's a delightful blend of humor, Scripture, and insight that keeps you turning the pages. True to Kathi's spiritual maturity, she keeps the life-ship telescope pointed toward our great Captain.
With her characteristic warmth, candor, and a wealth of zany humor, Kathi Macias helps readers see beyond the myth of the Proverbs 31 woman.