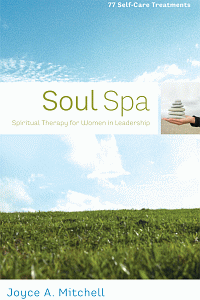 Soul Spa
Spiritual Therapy for Women in Leadership
Product Details
"Come to me, all who labor and are heavy laden, and I will give you rest" (Matthew 11:28 ESV).
Multitaskers, achievers, helpers- women leaders rarely say no to a new challenge. One element of their lives, often overlooked or undervalued, is self-care. Yet the way women nurture their own vitality has a dramatic impact on their effectiveness, including in relationships.
Soul Spa invites women to a nourishing place for heart, mind, soul, and strength- simply a few moments of self-care treatment each day, to encourage transformation for enriched living and relationships:
Scripturally based meditations
Inspiring quotes and stories
Creative journaling prompts
Easy-to-apply self-care options
110 random acts of self-care
Bonus: Soul Spa group, retreat, and conference plans, with facilitator's guide and discussion suggestions
Soul Spa- soothing therapy to leave women refreshed and thriving
About the Author
Joyce A. Mitchell serves as the head of the Leadership Development Team for a 1 million-member nonprofit organization where she coaches more than 95 employees in their personal and professional development. Valued for her experience and expertise, Joyce facilitates individual and team development with national-level staff, and is responsible for the implementation of multiple training events held across the United States. Joyce currently resides in Alabaster, Alabama. She loves family, journaling, playing Scrabble, nurturing others, and more.