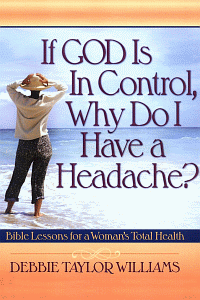 If God Is In Control, Why Do I Have a Headache?
Bible Lessons for a Woman's Total Health
Product Details
How does my health affect my relationship with God?
How does my physical condition affect my relationship with others?
What does God expect of me in regard to the stewardship of my body?
How can God use me in situations that seem out of control?
This six-week, Scripture-intensive study offers thoughtful looks at Esther, Peter's mother-in-law, Hannah, the woman with the issue of blood, Martha, and Mary Magdalene. Their stories reveal that God cared deeply about their physical struggles, and the author demonstrates that He cares deeply about our health struggles today—including stress, nutrition and exercise, and depression. Created to glorify Him, our bodies can help us serve God and others and find abundant life. Each week includes interactive studies for five days.
About the Author
Debbie Taylor Williams is a Bible teacher, speaker, and founder of Hill Country Ministries, a nonprofit organization dedicated to spreading the Word and love of God. She has been teaching the Bible to women for more than 30 years. In addition to other Bible studies and children's devotions, Williams's past works include Pray with Purpose, Live with Passion, and Prayers of My Heart. Her teaching ministry is televised locally. She lives in Kerrville, Texas, where she was recognized as the Kerrville 2000 Woman of the Year. Debbie and her husband have two adult children and a son-in-law.