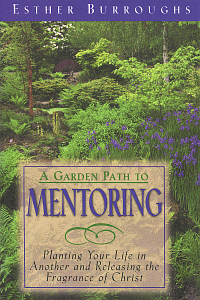 A Garden Path to Mentoring
Planting Your Life in Another and Releasing the Fragrance of Christ
Product Details
In A Garden Path to Mentoring: Planting Your Life in Another and Releasing the Fragrance of Christ, Esther Burroughs describes the profound influence that Christian women can have on the lives of those they mentor. Comparing the process of mentoring to gardening and beautifully illustrating each point with examples from her own life and those of other godly women, Esther guides the reader down a spectacular garden path permeated by the fragrance of Christ.
Mentoring is more than a passing fad; it is one of the most effective means of leading and teaching known today, and it is especially important for Christian women. As Helen Fling, a longtime leader in working with women said, "Even one woman who loves God and His world unreservedly has an impact upon other Christian women that is awesome! A chain of influence begins that cannot be terminated, as long as Christ is being lifted up."
About the Author
Esther Burroughs is an author, speaker, and mentor. She has written multiple books, including Empowered, Splash the Living Water, and Treasures of a Grandmother's Heart.
Endorsements
I'm honored to tell you what a rare privilege it is to have been parented and mentored by my mother. The fragrance of Christ is apparent in everything she does, and her gift for mentoring women is unparalleled. She is my best friend, my hero, and my mentor, always pointing me in the direction of Jesus Christ. You will be blessed and challenged by her book.