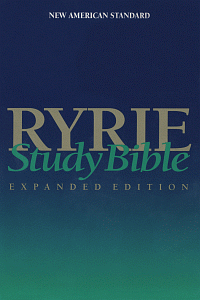 Highlights
Over 10,000 concise explanatory notes
Comprehensive outlines and introductions for each book
A harmony of the Gospels
Originally published in 1978, Revised and expanded in 1995
Named as the Master's Seminary's 850 Best Books for Biblical Expositors
Product Details
"The Bible is the greatest of all books; to study it is the noblest of all pursuits; to understand it, the highest of all goals."—Charles C. Ryrie
A comprehensive single source for all Bible study needs, the Ryrie Study Bible includes detailed sections such as:
A Synopsis of Bible Doctrine
The Inspiration of the Bible
Understanding the Bible
How We Got Our Bible
The Meaning and Blessings of Salvation
Archeology and the Bible
A Brief Survey of Church History
Charles Ryrie's years of study, teaching, and writing make him exceptionally qualified to help readers grasp the fundamental truths of Scripture. Every Ryrie Study Bible has unique features that continue to make it a bestseller.
Other Features Include:
10,000 concise explanatory notes
In-text graphics including maps, charts, timelines, and diagrams
Comprehensive book outlines in easy-to-read format
Expanded topical index
Extensive cross references
Detailed introduction to each book
Introduction to the Old and New Testament and the gospels
Comprehensive concordance
16 full-color maps
8-page historical timeline
Daily Bible reading
About the Author
Charles Caldwell Ryrie, born in 1925, graduated from Haverford College, B.A., Dallas Theological Seminary, Th.M., Th.D. and the University of Edinburgh, Scotland, Ph.D. He was ordained by the First Baptist Church in Alton, Illinois. He spent five years at Westmont College, first as a professor, later as the dean of men and chairman of Biblical studies and philosophy. For many years he served as professor of systematic theology and dean of doctoral studies at Dallas Theological Seminary and is now professor emeritus. In 1958 he became president and professor at Philadelphia College of Bible and currently acts as visiting professor. He is a premillennial dispensationalist, though irenic in his approach.H
Ryrie is the annotator of the Ryrie Study Bible, Expanded Edition and author of many books, including Balancing the Christian life, Basic Theology, and The Holy Spirit. In 1985, he was one of the recipients of the Gold Medallion Book Award from the ECPA. In 2009, FIBA honored Dr. Ryrie by presenting him with a plaque for his outstanding service to the Christian community around the world for the glory of God.
Endorsements
I've been a Ryrie fan since long before I knew him. Besides that he writes with grace and clarity for the layman, his deep insights never disappoint.
I use the Ryrie Study Bible every day. It has been my study Bible of choice since 1987.