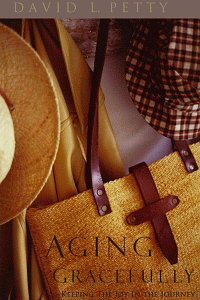 Aging Gracefully
Keeping the Joy in the Journey
Product Details
Sooner or later, you realize it. You are getting older. But that realization is only the beginning. How you handle this reality is what's important to making these years all they are meant to be. This is what David Petty will help you do. Aging Gracefully shares his passion to equip you with "tools" that can make this stage of your life all God intends.
Petty, a retired professional gerontologist, delves into the intricacies of aging changes that affect the whole person. He encourages the philosophy of adaptation to change, using God's good gift of human resiliency, while addressing such questions as:
Why do humans age?
Who is a typical old person
Why is my "forgetter" working so well?
How is it possible to enjoy rather than to fear growing older?
Petty also discusses financial issues.
Aging Gracefully will help you seek God's will and His kingdom even more in every stage of your life.
About the Author
David Petty earned his Ph.D. from Texas A&M University and is currently Regent's Professor Emeritus of Sociology at Stephen F. Austin State University. Retired, he currently resides with his wife in Glorieta, New Mexico.