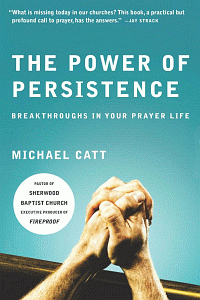 The Power of Persistence
Breakthroughs in Your Prayer Life
Product Details
Pray without ceasing.
Have you ever wondered what life would be like if, once and for all, you truly stayed in constant communication with God? Imagine how much of His power you've done without by avoiding Him here and there. Imagine what could happen now if you didn't just walk with Him on occasion but on the clock—day by day, moment by immeasurable moment?
Pastor Michael Catt, whose church launched the international hit films Facing the Giants and Fireproof, is often asked why God has blessed their efforts in such a remarkable way. His answer is simple: "We have a praying church that is walking in unity. We pray over every ministry and decision."
Recognizing individuals and churches are often powerless because they are prayerless—and how some prayers equate to nothing more than "worrying on our knees"—Catt offers The Power of Persistence so that we can experience real breakthroughs in our prayer life.
The stories here from Scripture and the author's personal journeys attest to the prophetic and profitable work of prayer. Richly insightful chapters on prayers of penitence, learning from the psalmist, praying for others, and praying in response to spiritual warfare foster a life-changing level of intimacy with the God who is eager to hear our cries and accomplish His work through us.
About the Author
Michael Catt has served as senior pastor of Sherwood Baptist Church in Albany, Georgia, since 1989 and is executive producer of the poplar Facing the Giants and Fireproof films that originated from the congregation. He also authored Prepare for Rain and Fireproof Your Life and is founder of the ReFRESH revival conference. Michael and his wife, Terri, have two children.
Endorsements
A biblical base for praying churches and praying church leaders, a case it is impossible to refute.
This amazing book addresses three critical questions in my person journey: What is the secret to compassion, creativity, and consistent clarity? How can one church in a small city reach millions through the medium that has eluded our grasp in the past? What is missing today in our denominations and churches across the land? This book, a practical but profound call to prayer, has the answers. If you desire a fresh wind from "elsewhere" to blow away the stale, the shallow, and the status quo, then discover The Power of Persistence.
Some men write on subjects their research has prompted, while others feel the need to address the passion of their lives and ministry. The latter serves as the inspiration of this book, as its subject of prayer has been fleshed out in the life of its author. This is a must-read for anyone who desires intimacy through persistence in prayer.
Aristotle said, "Give me a place to stand, and I can move the world." Michael's book really nails it. It tells me how to get to that place on my knees before the throne and stay there until it happens. And it will happen.
We need this book today more than ever, not because people won't fill our churches even when we are spiritually empty. We need this book today because a sovereign God has inestricably linked the persistent praying of His people to the manifestation of His life-changing power and sin-killing presence. The old, old story told by prayed-up preachers who are leading prayed-up churches still works. It's the only thing that really works.
This book is a compelling challenge to move to the next level in our Christian walk. It is powerful because it is personal. Michael has been a part of every major even in my life and the life of my family through his consistent prayer for us. This book and Michael's example have made a significant impact in my life.
If you want to know how to get from where you are to where you want to be, the book you hold in your hand will show you the way. Discover the intimacy of speaking to the King in the King's own language as Michael Catt teaches you how to pray the Word in a powerful and effective way. When you do , your life will never be the same!
Get hold of prayer and experience a depth with God you've never known before. Dig into Michael Catt's powerful work and be amazed at what God can do in you.