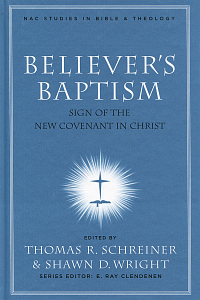 New American Commentary Studies in Bible & Theology: Believer's Baptism
Product Details
About the New American Studies in Bible and Theology
The books in this series often take a biblical difficulty as their point of entry, remembering B.F. Westcott's point that "unless all past experience is worthless, the difficulties of the Bible are the most fruitful guides to its divine depths."
This new series is to be a medium through which the work of evangelical scholars can effectively reach the church. It will include detailed exegetical-theological studies of key pericopes such as the Sermon on the Mount and also fresh examinations of topics in biblical theology and systematic theology. It is intended to supplement the New American Commentary, whose exegetical and theological discussions so many have found helpful. These resources are aimed primarily at church leaders and those who are preparing for such leadership. We trust that individual Christians will find them to be an encouragement to greater progress and joy in the faith. More important, our prayer is that they will help the church proclaim Christ more accurately and effectively and that they will bring praise and glory to our great God.
About Believer's Baptism
Unfortunately we live in an age where many Christians think that clarity on baptism is unimportant. Some even feel a bit embarrassed and abashed about staking out a position on baptism, thinking that such an issue should be relegated to the past. As editors we are convinced that we should proclaim the whole counsel of God accurately and that the truth God has revealed is profitable for the church of Jesus Christ and for living in a way that pleases God.
The recovery of a robust doctrine of believers' baptism can serve as an antidote to the theological minimalism and atomistic individualism that prevail in many Baptist churches in our culture. Baptism is not only the solemn profession of a redeemed sinner, our "appeal to God for a clear conscience," as the NT puts it (1 Peter 3:21); it is also a sacred and serious act of incorporation into the visible community of faith.
Our hope is that readers will be challenged and encouraged by what is written in this book. For those who disagree, we only ask that our arguments would be countered with the Scriptures. For those who agree, we pray that what is advocated here will be implemented, by God's grace, ever more faithfully in our churches.
About the Authors
Thomas R. Schreiner (Ph.D. Fuller Theological Seminary) is James Buchanan Harrison Professor of New Testament interpretation and Associate Dean of Scripture and interpretation at The Southern Baptist Theological Seminary. He is the author of several books and many articles on New Testament interpretation and biblical theology. He also serves as preaching pastor of Clifton Baptists Church in Louisville, Kentucky.
Shawn D. Wright (Ph.D. The Southern Baptist Theological Seminary) is Assistant Professor of Church History at The Southern Baptist Theological Seminary and also serves as one of the pastors at Clifton Baptist Church. His area of specialization is Reformation studies.
Endorsements
Believer's Baptism is destined to be a classic concerning the doctrine of baptism. It is scholarly and practical, biblical and pastoral. Without demeaning those with whome they disagree, the contributors to this volume make the case for believer's baptism by immersion as biblical baptism. Any future discussion of this dictrine will have to take this work into consideratin.
This book brings a marvelous amount of clarity to an old debate, showing the importance of this issue, interacting graciously with those who support infant baptism, and providing a wealth of biblical, historical, theological, and practical information. It is a challenging book that may well cause many readers to re-think their own positions on baptism!
Believer's Baptism is now unquestionably the best volume on a theology of baptism and the best defense of believer's baptism available. The editors have assembled an excellent group of Baptist scholars to cover an amazing field of study that readers will find fascinating and rich. Much attention is devoted, as one might imagine, to describing and answering the paedobaptist tradition- and answer it does! Strong fidelity to Scripture's teaching, deep devotion to Christ and his great commission, and clear articulation of the glorious new covenant in Christ mark this excellent volume's treatment of baptism. Readers will be astonished at how much they will benefit from this book, and all those who cherish believer's baptism will rejoice that their view has been given such able expression.