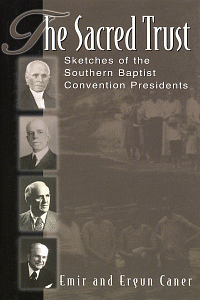 The Sacred Trust
Sketches of the Southern Baptist Convention Presidents
Product Details
The Southern Baptist convention has elected a president at each annual session since its organization in 1845. The Sacred Trust gives a five-page biography of each president and discusses the historical and political context of his work. This is the first such volume on SBC presidents to appear in over a generation, and the first to feature leaders from the Conservative Resurgence.
About the Authors
Emir Caner is assistant professor of Church History and Anabaptist Studies at Southeastern Baptist Theological Seminary in Wake Forest, North Carolina. He currently resides in Youngsville, North Carolina.
Ergun Caner is assistant professor of Theology and Church History at The Criswell College in Dallas, Texas. He and his family currently reside in Cedar Hill, Texas.