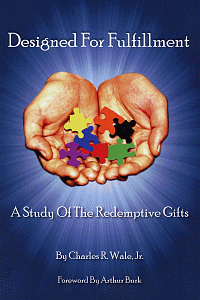 Designed For Fulfillment
A Study of the Redemptive Gifts
Highlights
Understanding the twelve spiritual gifts from Romans 12
Product Details
Before we came into being, God had a plan for us. Psalm 139 says that we are fearfully and wonderfully made by our creator who created our innermost being in our mother's womb. God chose our physical appearance as well as our innermost parts. Each of us is a reflection of Him, created in His image for His good pleasure. Designed For Fulfillment is an attempt to take a closer look at a part of that plan in order to better understand ourselves and our design.
Understanding the redemptive gifts will give you a greater understanding of the potential that you have, as well as the challenges that you face. It will help you identify your individual strengths and weaknesses. You will begin to understand in a deeper way why God created you. You will learn to stop wasting your time on those things that are motivated by woundedness rather than by your Father's design. Your love of your Father will go to a deeper level as you begin to see more clearly His love and destiny for you. In short, you will recognize in a new way what it means to be a child of the Most High God.
About the Author
Charles R. Wale, Jr. (Chuck) has been studying and teaching the redemptive gifts for many years. He finds great fulfillment watching others understand their God-given design and watching them be set free to be who they were designed to be. He is passionate about passing down transformational truth to the next generations. One of his greatest joys is having friends and family around him, sharing their thoughts, dreams, and hopes. He currently lives in Mississippi and serves on the Board of Directors for Free to Be Ministries.