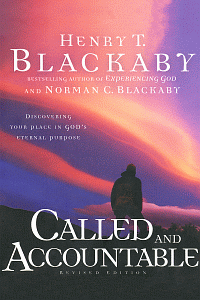 Called and Accountable Workbook
Discovering Your Place in God's Eternal Purpose
Product Details
Every believer is called by God, and His call is life-transforming. He died for all, that those who live should live no longer for themselves, but for Him who died for them and rose again. —2 Corinthians 5:15
Just as He did throughout the Bible, God is still calling His people, at this very hour, to accomplish His eternal purposes on earth. Authors Henry Blackaby and Norman Blackaby believe that God has a unique plan for each of His followers to be a part of His mission. Six weekly units in this revised edition of Called & Accountable include key Scriptures, plus expanded interactive content and new testimonies, thoughtfully exploring:
Why does God call us?
What is a call?
Who are the called?
How am I called?
When am I called?
How do I live out the call?
Though every believer's assignment is unique, discover the one aspect of God's call that is universal to every believer.
About the Authors
Henry T. Blackaby is the author of Experiencing God, which has sold 5 million copies and has been translated into 50 languages. He is president of Blackaby Ministries International, an organization he founded to help people experience God in a more intimate way.
Norman C. Blackaby is a pastor in Little Rock, Arkansas, and frequently speaks at Called and Accountable retreats. He has served also as vice president of Blackaby Ministries International and has taught for two Southern Baptist seminaries.