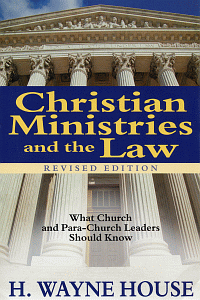 Christian Ministries and the Law, Revised Edition
What Church and Para-Church Leaders Should Know
Product Details
In this age of lawsuits and red tape, legal issues can present a midfield for churches and ministries, even more so as they seek to serve not only their own constituency but the wider community as well. Specialized knowledge is needed to negotiate the complicated frontier between church and law. Written by recognized experts in their fields, some of the issues discussed include:
a biblical view of law and government
mediation, arbitration, and preventative lawyering
the IRS, church finances, and charitable giving
church-sponsored and independent Christian schools
counseling privileges and liabilities
political activity do's and don'ts
church property and zoning laws
A glossary of legal terms, a clarification of recent changes in legislation, sample contracts, and sample agreements for arbitration and mediation make this an invaluable resource for every pastor, Christian school administrator, and ministry leader.
About the Author
H. Wayne House, M.A., Th.D., J.D., is Distinguished Professor of Biblical and Theological Studies at Faith Evangelical Seminary and serves as Adjunct Professor of Theology and Apologetics at Veritas Evangelical Seminary. Dr. House is also the President of Christian Perspective International.
Dr. House received his B.A. in Classical and Hellenistic Greek at Hardin-Simmons University; M.A., Biblical and Patristic Greek, Abilene Christian University; M.Div. in Pastoral Studies, Western Seminary; Th.M. in Biblical Studies, Western Seminary; Th.D., Exegetical Theology, Concordia Seminary, St. Louis; J.D., Law, Regent University School of Law; Certificate in International Human Rights, Institut International des Droits de L'Homme, Strasbourg, France. He is the author of several books.