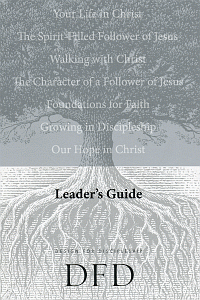 Leader's Guide
Design for Discipleship
Product Details
For over 25 years, the Navigators' best-selling Design for Discipleship Bible study series has offered millions of new and experienced believers a chance to learn firsthand what it means to be a modern disciple of Christ.
This Leader's Guide will assist the group leader in taking individuals through all seven volumes of the Design for Discipleship series. The first portion of the book discusses these practical matters:
Who Should Be in the Group?
Schedule
Your First Meeting
Leading the Discussions
Closing the Discussions
Establishing a Safe Environment
Preparation
Each subsequent chapter gives specific objectives, questions, quotes, illustrations, summaries, applications, and tips for each chapter of all seven volumes.
Newly updated with interactive, discussion-prompting questions, these field-tested studies present an exciting way for believers to grow toward maturity in their daily walk with God.