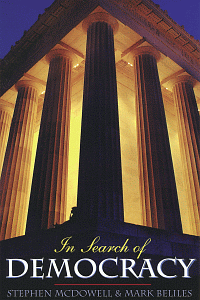 Product Details
In recent years millions of people throughout the world have demonstrated and cried out for freedom. They equate freedom and democracy and think democracy is necessary to correct the problems in their nations. But many people do not really know what democracy is or what makes it work. There are certain principles that can be derived from attempts at democracy in world history that we must learn or else suffer from the awful mistakes that others have already experience in trying to establish a free government.
Pure democracy as attempted by Greece in ancient history and France 200 years ago has proven to be not only impractical but also dangerous. Where people rule directly, they tend to favor the will of the majority at the expense of the individual rights of minorities. Tyranny, therefore, can be found in pure democracy. It can become "mob rule."
The father of the Constitution of the United States, James Madison, noted in Federalist No. 10 that "democracies have ever been spectacles of turbulence and contention; have ever been found incompatible with personal security or the rights of property; and have in general been as short in their lives as they have been violent in their deaths."
Pure democracy, therefore, is to be avoided. How? By the concepts of representation and fixed higher law, which are associated with the term "republic." A free government may better be termed constitutional republic.
Learn of seven basic governmental structures (the framework of a constitutional republic) that are necessary to protect and secure individual rights and liberties. Learn of the sources of democracy in history. And, most importantly, learn of the foundational principles that are essential to support the framework of a free nation.
About the Authors
Stephen K. McDowell is the President of the Providence Foundation's Biblical Worlview University. In over 26 years of full-time work with the Foundation, Stephen has trained many thousands of people from every U.S. state and over 100 countries. He has traveled to 30 nations in six continents where he has consulted with government officials, assisted in writing political documents, advised political parties, and started Christian schools and Biblical worldview training centers. He has authored and co-authored over 20 books, videos, and training courses including Liberating the Nations and America's Providential History. McDowell holds a master's degree in geophysics, served for several years as a pastor, as has been an adjunct professor at Regent University.
Mark Beliles is the President of National Transformation Network of Providence Foundation and senior pastor of Grace Covenant Church in Charlottesville, Virginia. Beliles has lectured throughout the U.S. and in over 30 nations and frequently advises Christian prime-ministers, vice-presidents, congressmen, and members of parliaments on Biblical principles of government. Beliles has co-authored several books, including Contending for the Constitution, and his essay and doctoral dissertation Churches and Politics in Jefferson's Virginia are cited and published by various academic journals.