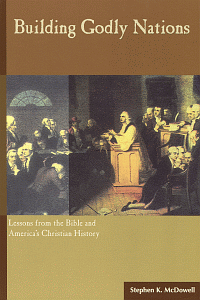 Building Godly Nations
Lessons from the Bible and America's Christian History
Product Details
Jesus commissioned believers to "make disciples of all nations," which, according to Bible Commentator Matthew Henry, means to "do your utmost to make the nations Christian nations." How do we make the nations Christian? How do we build Godly nations?
The Bible teaches that if people obey God's laws they will have liberty, peace, prosperity, and justice. But we must obey all that Jesus taught to experience the abundance of God's blessing.
The Founders of America understood this vital truth and attempted to build the nation upon the precepts of God, and though not without fault, their efforts produced the best example of a Christian nation in history. Thus there are many important lessons we can learn from the American Founders as we seek to build Godly nations today.
This book examines the mandate for building Godly nations, lessons from America's Christian history, and how to apply Biblical principles to governing the nations.
About the Author
Stephen K. McDowell is President of the Providence Foundation and has taught inspiring seminars throughout the United States as well as in Asia, South America, Australia, and Africa. He has trained thousands of people from 70 countries, consulted with numerous government officials, assisted in writing political documents and starting political parties, and helped establish classes on godly reformation in numerous churches. He has authored and co-authored several books and videos. After obtaining a B.S. in Physics and a M.S. in Geology, Stephen went on to work in the ministry. He pastored churches for six years before moving to Charlottesville to work with Mark Beliles in starting the Providence Foundation. He and his wife, Beth, have four children.