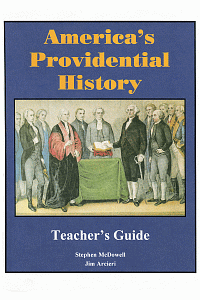 America's Providential History: Teacher's Guide
Highlights
Companion to America's Providential History
Product Details
This guide is meant to be used with America's Providential History when teaching students from middle school age and up. It contains questions for each chapter, supplemental readings from America's Providential History Documentary Sourcebook, lists of materials for further study, chapter outlines, tests, and more.
About the Authors
Stephen K. McDowell is President of the Providence Foundation and has taught inspiring seminars throughout the United States as well as in Asia, South America, Australia, and Africa. He has trained thousands of people from 70 countries, consulted with numerous government officials, assisted in writing political documents and starting political parties, and helped establish classes on godly reformation in numerous churches. He has authored and co-authored several books and videos. After obtaining a B.S. in Physics and a M.S. in Geology, Stephen went on to work in the ministry. He pastored churches for six years before moving to Charlottesville to work with Mark Beliles in starting the Providence Foundation. He and his wife, Beth, have four children.
Jim Arcieri has served as a Head Master of Stonebridge School and Teacher of several subject areas at Providence Bible College & Theological Seminary. James' academic time at PBC&TS helped to shape the personal needs of his Head Master position and continued forward as he works now as a full-time Pastor at Cedar Fields Church in Pennsylvania.