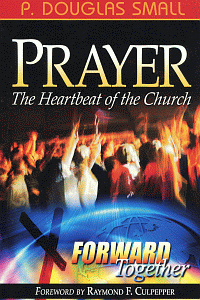 Prayer
The Heartbeat of the Church
Product Details
Whatever the challenge, conditions, or conflict, prayer has transforming power. Prayer has resurrection power, renewal power, and restoration power. Prayer is the heartbeat of the church! The material in this volume will do three things:
MAGNIFY the divine privilege of prayer. Through prayer we have direct connection with the Lord of the universe. This privilege is scripturally spotlighted.
MOTIVATE individuals to develop a disciplined prayer life. Prayer provides a pathway to advance Christlikeness. This pathway is vividly described.
MOBILIZE the church to create a prayer culture. A praying church is a balanced and growing church. This process is set forth with practical steps of action.
About the Author
P. Douglas Small, founder and president of Alive Ministries is first and foremost a Bible teacher who focuses on teaching the church to pray. He conducts prayer summits, prayer conferences, and prayer walks across the nation and in many countries of the world. Doug Small is also the author of Transforming Your Church into a House of Prayer. He and his wife, Barbara, live in North Carolina and have five children and eleven grandchildren.