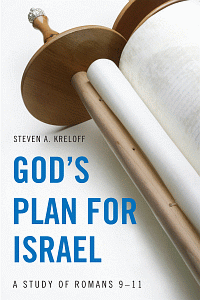 God's Plan for Israel
A Study of Romans 9-11
Product Details
Adapted from the Preface
This book is about the righteousness of God in His dealings with the Jewish people. While books abound concerning Israel and prophecy, authors seldom write about God's faithfulness in relation to the children of Jacob. This book presents an exposition of Paul's teaching in Romans 9-11 regarding the integrity of God in His dealings with Israel. Chapters 9-11 are critical, not parenthetical, to the apostle's argument in Romans. Just as the gospel of Christ reveals the righteousness of God (Romans 1:17), God's past, present, and future dealings with Israel also demonstrate His righteous character.
The doctrines of God's sovereignty and human responsibility coexist without conflict in Romans 9-11. There is a great need among evangelicals to understand that God's sovereignty in election does not negate human responsibility in salvation or evangelism. The author's desire is that the readers of this commentary will not try to reconcile these two theological truths, but will conclude with Paul, "O the depth of the riches both of the wisdom and knowledge of God!" (Romans 11:33)
About the Author
Steve Kreloff is a Jewish Christian who received Jesus as his Messiah and Lord while a student at the University of South Florida. He is a graduate of the Moody Bible Institute and Tampa Bay Theological Seminary. Since 1981 he has been the Pastor/Teacher at Lakeside Community Chapel in Clearwater, Florida. Steve can be heard on the radio program, Verse-by-Verse Radio www.versebyverseradio.org.
Endorsements
Let me encourage you to read this exposition of Paul's thought and see its relevance for the present - and its prediction of an exciting future for the Jewish people.
I always enjoy Steve Kreloff's biblical expositions because of the clarity with which he distills the meaning of every text. Steve's natural passion for Israel and the special relevance of Romans 9-11 to that subject gives this volume an energy level that is contagious. My copy of this book is now a dog-eared treasure, and I am thrilled to see it in a new edition. I can't wait to get a fresh copy.
This very readable, clear exposition of Romans 9-11 is highly recommended.
Steve Kreloff has written with a remarkably insightful and helpful study of Israel's future.