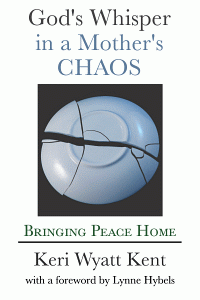 God's Whisper in a Mother's Chaos
Bringing Peace Home
Product Details
Mothering small children is exhausting and mind-numbing work. Just finding time to get dressed each day can be a challenge. So how can you possibly find time for God?
Your need for God may be greatest at this time of life more than any other. You need God's wisdom, his guidance, and--most of all--his peace. You need to find ways to hear his still, small voice amid the whirlwind of diapers and feedings, first steps and first words, sore throats and skinned knees, playmates, broken toys, birthdays, big questions, and nightmares. In this book Keri Kent offers you encouragement and ideas from one who has been--and still is--in the middle of mothering twenty-four hours each day.
Here you'll find a welcome companion on your daily quest to seek God and bring his peace into your heart and home.
About the Author
Keri Wyatt Kent is the author of God's Whisper in a Mother's Chaos, The Garden of the Soul, and Breathe. She has coauthored several books and Bible studies, including Courageous Faith Through the Year.
Her writing and teaching ministry is focused on guiding others toward a deeper and more authentic relationship with Christ. A former newspaper reporter, she has been writing professionally for more than twenty years. She lives with her family in Illinois.
Endorsements
Most authors write of their early mothering years long after their kids have traded diapers for designer jeans and a bottle of milk for a diet Coke. But Kent wrote this book with preschoolers playing--or sleeping or fighting or laughing or whining--in the background. The result is a realistic book.
Kent gives practical real-life experiences of how to listen for the whisper of God's still, small voice in the midst of chaos. I love how she affirms moms, giving them hope, encouragement and the reassurance that raising children is 'an honorable and heroic vocation.'
I've watched Keri Kent play out her faith as a journalist, a church volunteer, a wife and a mother--and I'm thrilled she has used these real-life experiences to create this inspiring and practical book. You'll benefit greatly from her insights and wisdom. And through it all, you'll hear God's whisper in a mother's chaos.