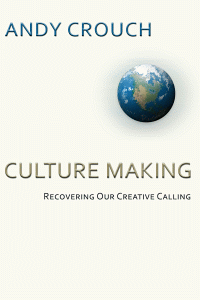 Culture Making
Recovering Our Creative Calling
Product Details
Moving the horizons of the possible.
It is not enough to condemn culture. Nor is it sufficient merely to critique culture, copy culture or consume culture. The only way to change culture is to create culture.
Andy Crouch unleashes a stirring manifesto calling Christians to be culture makers. Culture is what we make of the world, both in creating cultural artifacts as well as in making sense of the world around us. By making chairs and omelets, languages and laws, we participate in God's own making and transforming of culture.
A model of his premise, this landmark book is sure to be a rallying cry for a new generation of culturally creative Christians. Come join the movement from consuming to creating. Discover your calling of culture making.
About the Author
Andy Crouch, M.Div., Boston University School of Theology, is editorial director of the Christian Vision Project at Christianity Today International. He served as executive producer for the documentary films Where Faith and Culture Meet and Round Trip. He also sits on the editoral board of Books and Culture and has been a columnist for Christianity Today. His writing has appeared in several editions of The Best Christian Writing and The Best Spiritual Writing. He was editor-in-chief of re:generation quarterly and for ten years served as a campus minister with InterVarsity Christian Fellowship at Harvard University. He is a coauthor of The Church in Emerging Culture (Zondervan) and Worship Team Handbook (InterVarsity Press). A classically trained musician who draws on pop, folk, rock, jazz and gospel, he has led musical worship for congregations of five to twenty thousand. He and his family live in Swarthmore, Pennsylvania.
Endorsements
Are Christians to be countercultural? Or protect ourselves from 'the culture?' Or be 'in' culture but not 'of' it? In this bracing, super-smart book, Andy Crouch changes the terms of the conversation, calling Christians to make culture. I am hard-pressed to think of something that twenty-first-century American Christians need to read more.
Culture Making is a book that's been needed for decades, but it arrives at just the right moment. People of faith-now poised to use their influence- have much to contribute to the common good as creators and advocates, not just as critics and judges. But that requires careful thought and clear insight, both of which are abundantly found in this profound and practical book. Andy Crouch has long had a knack for observing the culture around us and then showing us how we can make it better. With Culture Making, Andy Crouch offers all that and more. Anyone who cares for the renewal of our culture must read this book!
As an artist and an advocate for artists, I am grateful for this book. Andy Crouch's edifying analysis of culture and the church and his timely call for us to be culture makers make this work invaluable in today's faith journey. This is a groundbreaking guidebook for all who are concerned about cultural issues and the church.
Those who have struggled with the sacred-secular dichotomy will find this book life-giving; every Christian interested in changing culture should read it.
Good books are either brilliant or helpful, but the best books are both- and Andy Crouch has attained that rare combination of virtues in Culture Making. As a Christian, as a parent, and as an organizational leader, I would like to make a difference in the world, Andy Crouch not only helps me understand where that yearning comes from, but how to pursue it with passion, commitment, power, and spiritual health. Culture Making is a joyful gift of intelligence and practical provocation for thoughtful Christians.
Grappling with 'the culture' has become an obsession for contemporary Christians, but a misunderstanding of what cultures are and how they behave results in a great deal of frustration. Andy Crouch's 'Culture Making' draws on both his broad experience and originality of insight to offer a bracing and clear-eyed view of the way forward.
In this marvelous book Andy Crouch makes the case for cultural discipleship by giving us an exciting overview of the drama of creation, fallenness and renewal. And along the way he offers much wisdom about the very real cultural realities that we face as twenty-first-century Christians.
A deep and thoughtful reminder that the resurrection of Jesus empowers us to cultivate the garden, to build in the ruins of our world, and to create within and around us cultures of life.