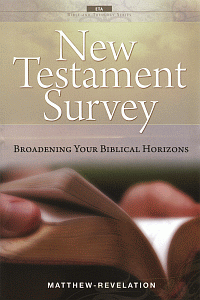 Broadening Your Biblical Horizons
New Testament Survey of Matthew-Revelation
Highlights
Part three of the three-volume Broadening Your Biblical Horizons Series
Product Details
New Testament Survey takes an exploring approach that will deepen your knowledge of God and, in turn, enrich your life. You'll gain an overview of the entire New Testament, consider the respective writers and their writings, and lay a solid foundation for understanding the message and revelation of Jesus Christ.
Studying the Bible is a fascinating experience for all who desire to more clearly understand how God works with His people. Well-known Bible passages take on new dimensions when seen in the perspective of a sweeping panoramic overview. A person desiring to minister to others must also develop the spiritual depth which comes from biblical knowledge. The three-volume series Broadening Your Biblical Horizons will help you attain these goals.
No book, however, can ever substitute for studying the Bible itself. Nor can the most capable person apply the Bible's message to another person's life. You will benefit most from this study if you first read the portion of the Word of God being considered as many times as possible from various translations. Then ask yourself, "What does the Word say to me?" Applying what the Bible says to current living will result in a truly rewarding experience.
About the Author
Walter M. Dunnett served on the faculty of Northwestern College in St. Paul, MN. He received his Ph.D. in Biblical Literature from Western Reserve University.