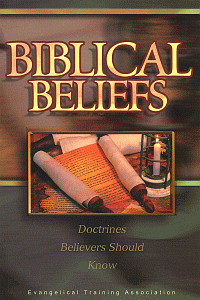 Biblical Beliefs
Doctrines Believers Should Know
Product Details
Biblical Beliefs presents foundational Bible doctrine in a popular, easy-to-understand format. It interweaves deep Bible truths with structural threads of elementary truths which all believers, whatever their spiritual experience, can fully grasp. Biblical Beliefs is the companion text to the widely-used ETA book The Triune God. Together these books span the broad scope of biblical doctrine.
About the Author
Clarence H. Benson (1879-1954) was the moving force behind the founding of the Evangelical Teacher Training Association (ETTA, now ETA) in 1930. Benson served as Secretary of the Association from 1930 to 1951 and as President from 1952 until his death in 1954. After training at Princeton Theological Seminary, he was ordained in 1908 as a Presbyterian minister and served a number of churches in the U.S. and one in Japan. From 1922 to 1941 he was a professor of Christian Education at Moody Bible Institute and Associate Editor of Moody Monthly magazine. Benson received a Litt.D. degree from The King's College in 1945.
Dr. Benson was a tireless advocate for the effective training of adults for ministry in the local church. He was also a prolific author of twenty books with total distribution of over two million copies. Two of his most enduring works have been Biblical Beliefs and The Triune God.