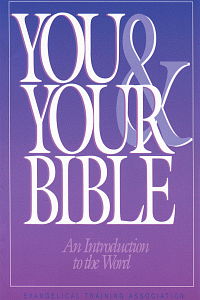 You and Your Bible
An Introduction to the Word
Product Details
Open discussion of the Bible and its claims is popular among both the churched and the unchurched. Almost every year a new version appears. Bibles are shelf stocked items in department stores, novelty shops, and most bookstores. Believers, especially those involved in church ministry, should be well-informed about the Word of God.
How did we get the Bible? Who wrote the Scriptures? How can we answer the Bible critics? Why do we believe the Bible to be the Word of God? How can we best study it? These questions are characteristic of those asked many times of local leaders and churches. You and Your Bible will help you to be able to answer them.
About the Author
Robert Laird Harris (1911-2008) received a Bachelor of Science from the University of Delaware in 1931, a Th.B. from Westminster Theological Seminary in 1935, and a Th.M. from Westminster in 1937. Dr. Harris was licensed by the New Castle Presbytery of the Presbyterian Church (PCUSA) and ordained in the Presbyterian Church of America.
Dr. Harris received an M.A. degree from the University of Pennsylvania in 1941 and obtained his Ph.D. from Dropsie in 1947. He taught Biblical exegesis at Faith Theological Seminary from 1937-1956. In 1956, he, along with many other faculty, resigned from Faith Seminary over the issue that divided the Presbyterian denomination - church-controlled v.s. independently-controlled agencies. After this break, Dr. Harris became one of the founding faculty members of Covenant Theological Seminary; he served as professor at CTS from 1956-1981.
Dr. Harris played many roles in the leadership of the Presbyterian Church. He was the chairman of the fraternal relations committee of the Bible Presbyterian Church. He served in this position until the union of the Bible Presbyterian Church and the Reformed Presbyterian Church in North America took place forming the Reformed Presbyterian Church, Evangelical Synod. The Presbyterian Church in America and The Reformed Presbyterian Church, Evangelical Synod joined in 1982, and Dr. Harris was elected moderator.
In addition to serving as a professor, chairman, and moderator, Dr. Harris lectured around the world, served on the New International Version translation team, contributed to the Zondervan Pictorial Encyclopedia of the Bible, and wrote several books, including Introductory Hebrew Grammar, Inspiration and Canonicity of the Bible, and Man--God's Eternal Creation.