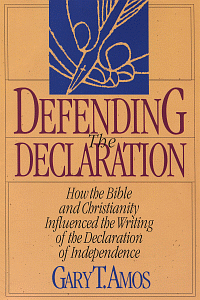 Defending the Declaration
How the Bible and Christianity Influenced the Writing of the Declaration of Independence
Product Details
After ten years of research and four years of writing, Dr. Gary T. Amos reveals that the evidence from primary sources is irrefutable: underlying the Declaration of Independence is a foundation of Biblical principles and Christian influence. The Bible and Christianity--not deism and secularism--were the most important influences on the framers. Amos laments that America's educational system denies or ignores almost all this evidence--evidence he believes to be undeniable.
About the Author
Gary T. Amos is uniquely qualified to show how the Bible and Christianity influenced the writing of the Declaration of Independence. Mr. Amos has earned the Juris Doctor Degree and also holds a B.A. degree in history, pre-law, and theology. He is a member of the Commonwealth of Virginia.
Currently he is an entrepreneur and international business counselor with clients or projects involving Asia, Europe, and countries of the Commonwealth of Independent States. Formerly he was Associate Professor for Law and Government at Regent University in Virginia Beach, Virginia. Mr. Amos was co-founder and charter faculty member of Regent University's masters degree program in Public Policy.
Endorsements
Gary Amos's timely book deals with an important issue in a thought-provoking way. The arguments he marshals are forcing me to re-examine some opinions I've held for a long time. This book deserves a careful reading.
If ever a book needed to be written, this is it! For years, Americans have been taught that the Declaration of Independence was a deistic document and that there was nothing Christian about it. Gary Amos has skillfully exploded this myth and has brought to bear an enormous amount of historical documentation indicating the Christian and Biblical principles and ideas which underlie the Declaration. Every American should read this book.
In this scholarly yet easily readable book, Gary Amos exposes the error of the Supreme Court's establishment of secularism as our national religion. Professor Amos demonstrates that America's founding, as exemplified in the Declaration of Independence, was neither secular nor deist, but rooted in the Christian tradition of the common law. This book is an important and courageous challenge to prevailing misconceptions.