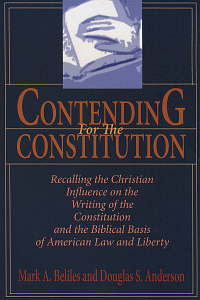 Contending for the Constitution
Highlights
Companion volume to Defending the Declaration
Product Details
Contending for the Constitution is a companion volume to the popular work Defending the Declaration. As author Gary Amos did concerning the Declaration, Mark Beliles and Doug Anderson present their case that the Constitution is based on biblical principles and Christian influence. Using primary source evidence, the authors give an easy-reading history of the Constitutional Convention and the Founder's emphasis on religion as being necessary for its success. They show how the spirit of the Constitution has greatly diminished today and issue a call for its defense.
About the Authors
Dr. Mark A. Beliles is the founder and Chairman of the Board of Directors of the Providence Foundation, an international research and educational organization that serves over 100 nations. Beliles has conducted seminars for leaders in church and state through-out America, Europe, and Africa, and in recent years done much training and consulting with government leaders in former Soviet states. He has organized several scholarly symposiums, on such topics as Christopher Columbus and Thomas Jefferson and the Separation of Church and State. In addition to various academic writings, he has co-authored several books for popular audiences, including America's Providential History. He currently serves as Senior Pastor of Grace Covenant Church and lives in Charlottesville, Virginia, where he and his wife Nancy have raised their three children.
Doug Anderson has been a volunteer staff member for the Providence Foundation since 1994 and is currently a member of its Board of Directors. Doug has been an Oregon-licensed attorney since 1982 where he served in private practice for a Corvallis law firm and then as Lincoln County Deputy District Attorney in Newport. He has spent the last 20 years as a Judge Advocate with the United States Air force, most recently assigned at Osan Air Base, Republic of Korea. Doug has published several law review articles and has been a seminar and conference speaker teaching on various international law topics as well as on the biblical principles of law in America. He and his wife Laura reside in Woodbridge, Virginia, with their two children, Paul and Christina.