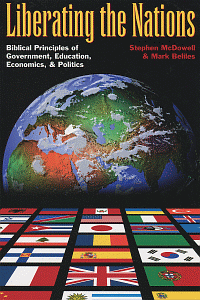 Liberating the Nations
Biblical Principles of Government, Education, Economics, & Politics
Product Details
How do we go about liberating the nations? By infusing into them the principles contained in the Bible. History has shown that the most free and prosperous nations have been those that most accurately applied the principles of Christianity in every sphere of life. Learn Biblical principles of education, government, economics, law and family life. Examine the role of the church, the family, the media, and civil government in a nation, and learn what you can do to bring Godly reform. This book is being used by thousands of people in scores of countries.
About the Authors
Stephen K. McDowell is President of the Providence Foundation and has taught inspiring seminars throughout the United States as well as in Asia, South America, Australia, and Africa. He has trained thousands of people from 70 countries, consulted with numerous government officials, assisted in writing political documents and starting political parties, and helped establish classes on godly reformation in numerous churches. He has authored and co-authored several books and videos. After obtaining a B.S. in Physics and a M.S. in Geology, Stephen went on to work in the ministry. He pastored churches for six years before moving to Charlottesville to work with Mark Beliles in starting the Providence Foundation. He and his wife, Beth, have four children.
Dr. Mark A. Beliles is the founder and Chairman of the Board of Directors of the Providence Foundation, an international research and educational organization that serves over 100 nations. Beliles has conducted seminars for leaders in church and state through-out America, Europe, and Africa, and in recent years done much training and consulting with government leaders in former Soviet states. He has organized several scholarly symposiums, on such topics as Christopher Columbus and Thomas Jefferson and the Separation of Church and State. In addition to various academic writings, he has co-authored several books for popular audiences, including America's Providential History. He currently serves as Senior Pastor of Grace Covenant Church and lives in Charlottesville, Virginia, where he and his wife Nancy have raised their three children.
Endorsements
The ideas and principles contained in Liberating the Nations are exactly what is needed in Europe today. We have distributed this book and taught seminars to pastors, government leaders, and educators in Germany, and throughout Eastern and Western Europe.
I have grasped more truth in this book than in many years of graduate study of law and economics. Complex issues have been made simple. I have been equipped to practically apply principles in my nation which will cause it to prosper and increase in liberty for all.
I have shared principles from this book with pastors and government officials throughout the Philippines. This has resulted in numerous classes, formation of a committee of pastors who will address messages to the nation on how to live in these times of crisis, and other exciting breakthroughs. One prominent Senator has quoted from the book in many of his speeches.