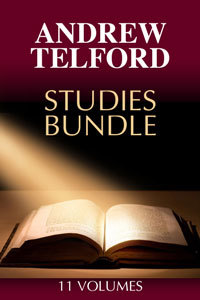 Andrew Telford Studies Bundle
Highlights
Great Alliteration
Breaks down the Scriptures into teachable nuggets
Adrian Rogers often quoted Telford in his sermons
Product Details
The Andrew Telford Studies Bundle is a goldmine of practical outlines and applications ideal for sermons, Bible lessons, and personal study. Dr. Andrew Telford has remarkable insight into God's Word, simplifying the complex and outlining Bible truths in understandable terms that are easily preached and taught to others.
Studies That You Will Use Like a Favorite Commentary
This bundle is in the "Study Helps" category because Telford does not limit himself to a verse-by-verse approach like you find in most commentaries. However, you will use these books much like you'd use a commentary, as Telford outlines Scripture and uncovers one Bible truth after another in a unique way that makes sense.
For example, Telford's notes on the Book of Job simplifies Job in a way I can share with others. Telford suggests the great lessons of Job can be seen as "The Man Before the Trial," "The Man During the Trial," and "The Man After the Trial."
Telford Views the Bible as a Whole
He's like a human cross-referencing system. Let's say you're studying Telford's book on Thessalonians. He begins by directing your attention to the historical account given in the book of Acts. Viewing Thessalonians through the lens of Acts gives you a much deeper understanding of the Thessalonians. Telford uses this technique frequently.
Do You Like Alliteration? Telford's Studies are PACKED with Alliteration!
Telford seems to think in an alliterated fashion. When he presents you with ideas, points, and subpoints, they are crisply alliterated in a way that makes it easy to remember and apply. The book of Habakkuk is only 3 chapters, and Telford outlines Habakkuk like this:
Chapter 1—Faith is Puzzled, or the Believer is Tested
Chapter 2—Faith is Patient, or the Believer is Trusting
Chapter 3—Faith is Praising, or the Believer is Triumphing
In plain language, Andrew Telford warmly expounds on the Scriptures for the benefit of individual believers and the church at large.
Check out a sample by clicking on the yellow sample box underneath the book cover image.
About the Author
Dr. Andrew Telford (1895-1997) was a pastor, teacher, and writer of the Word of God. Many of his books were written at the request of believers who were encouraged by his preaching and desired to have his sermon points in written form.
Endorsements
Dr. Andrew Telford was a remarkable man of God. A review of his life and ministry will reveal his dedication to the Lord's call, his demonstration of the Lord's gifts, and his determination in the Lord's service. Students of the Bible will benefit from his practical application of the Scriptures. Bible teachers will recognize his ability to formulate his thoughts. Preachers of the Word will appreciate his skill to alliterate his points. I commend his writings for your prayerful consideration.
I heard him preach in 1984 at a church in Chattanooga, Tennessee. He preached in the book of Ephesians. As for me I was a new Christian only saved a few years, but the way he preached captured my heart; the spiritual food; of the facts of being seated in the heavenlies in Christ Jesus. The very divine illustrations he used made the truth so real. I now have been saved over 30 years, and the Lord has called me to preach. Dr. Telford's written material has been a big help in studying the various topics and the expositional outlines are phenomenal. I sure appreciate Wordsearch applying Dr. Telford's books to their already great program.
Dr. Telford's use of alliteration is superb. His commentary on particular topics of the Bible has been quoted by Dr. Adrian Rogers. His writings are equal to the writings of men like Warren Wiersbe and Lehman Strauss. You will find his notes very useful for preaching or teaching a Sunday School class.
Products Included In This Bundle