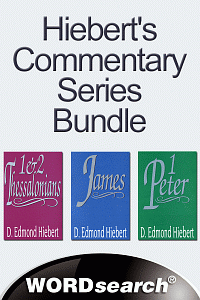 Hiebert's Commentary Series Bundle
Product Details
This bundle contains Hiebert's commentaries on 1 & 2 Thessalonians, 1 Peter, and James.
1 & 2 Thessalonians
Huddled in a Roman city a a crossroads near the edge of the Empire, the Thessalonian church was buffeted by winds of persecution and ugly rumors about the apostle Paul and his teachings. Paul wrote his first letter to the Thessalonians to comfort and encourage them. He urged these new believers to watch for their Lord's return and so live a life of committed holiness.
Hiebert has significantly revised his original commentary on the Thessalonian epistles to reflect new advances in textual criticism and doctrinal insights in the past twenty years. He assumes Paul's concern for his own readers and makes his commentary practical for today's believers.
Hiebert maintains a tone of commentary with a pastoral insight for making Paul's love and concern for the church come alive. This epistle contains some of the most specific and important formation about the last days and how the church can be ready.
Hiebert's wide application of the original Greek and his confident use of other commentaries and studies make this book a handy tool for pastors and other church leaders. Yet his work is not so exhaustive that the layman cannot benefit greatly.
1 Peter
If the letters of the apostle Paul were sometimes hard to understand, readers must have found Peter's first epistle as clear as blue sky. The brief book is easy to read, yet it is packed with salty advice, pithy admonitions, and broad vistas of sublime doctrine. It is the distillation of a simple fisherman's lifetime of faith.
In First Peter, Hiebert gives the modern reader a solid study of the most colorful disciple's thoughts. He traces the ways in which Jesus transformed Peter's life to make him a pillar of the early church. Peter learned many hard lessons and developed undaunted courage to meet an unbelieving and persecuting world.
In expositional detail, Hiebert will lead you step by step through this rich portion of practical teaching. The life of faith grows only in proper relationship with God, the church, and a needy but hostile world. Believers stand together as a holy priesthood to bear witness to the salvation found in the sacrifice of God's Lamb and the glory that shines through the fires of suffering.
Hiebert reaches both scholar and layperson with his accurate but understandable application of Greek and the addition of a detailed bibliography for further study. Summing up this letter, he observes, "First Peter is preeminently an epistle of triumphant faith amid suffering."
James
This book is a welcome treatment of what many consider a prickly topic. If a Christian is saved by grace alone, how important are his good deeds afterwards? Does a profession of faith mean more than verbal affirmation?
For centuries, the epistle of James has made Christians uncomfortable with its emphasis on right living as well as right believing. The apostle James represented a tradition of strict and consistent commitment to a proper lifestyle that was unfamiliar to most Gentile believers in the early church.
Later Christian leaders, such as Martin Luther, believed that James stressed adherence to God's law over acceptance of His grace. Therefore they never credited James with the same authority as other New Testament writings. Unfortunately, such a view springs from misunderstanding.
As in his other commentaries, D. Edmond Hiebert uses his knowledge of Greek to practical effect for pastors and laypeople alike. His expositional approach is well-suited for personal or public study. Dr. Heibert manages to write in a way that reflects James' practicality. He thoughtfully provides a bibliography for further reading.
About the Author
D. Edmond Hiebert (B.A., John Fletcher College; Th.M., Southern Baptist Theological Seminary) was professor emeritus of New Testament at Mennonite Brethren Biblical Seminary in Fresno, California. He has written widely on the New Testament, including First and Second Timothy and Titus and Philemon in Everyman's Bible Commentary series and 1&2 Thessalonians and 1 Peter. He and his wife, Ruth, have three children.
Products Included In This Bundle