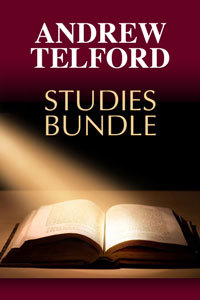 Pearls for Practical Preaching
A Study Course in Homiletics
Highlights
Precepts for preparing and presenting sermons
Product Details
Pearls for Practical Preaching is a series of lectures on homilies. Its purpose is to equip pastors to prepare and present sermons on the Word of God that will effect and benefit their pastorate and audience. It will also assist preachers in securing a variety of material from a text or portion of scripture.
About the Author
Dr. Andrew Telford (1895-1997) was a pastor, teacher, and writer of the Word of God. Many of his books were written at the request of believers who were encouraged by his preaching and desired to have his sermon points in written form.
Endorsements
Dr. Andrew Telford was a remarkable man of God. A review of his life and ministry will reveal his dedication to the Lord's call, his demonstration of the Lord's gifts, and his determination in the Lord's service. Students of the Bible will benefit from his practical application of the Scriptures. Bible teachers will recognize his ability to formulate his thoughts. Preachers of the Word will appreciate his skill to alliterate his points. I commend his writings for your prayerful consideration.
I heard him preach in 1984 at a church in Chattanooga, Tennessee, he preached in the book of Ephesians as for me I was a new Christian only saved a few years, but the way he preached, captured my heart, the spiritual food; of the facts of being seated in the heavenlies in Christ Jesus. The very divine illustrations he used made the truth so real. I now have been saved over 30 years, and the Lord has called me to preach, and Dr Telford's written material has been a big help in studying the various topics and then the expositional outlines are phenominal. I sure appreciate Wordsearch applying Dr. Telford's books to their already great program.
Dr. Telford's use of alliteration is superb. His commentary on particular topics of the bible have been quoted by Dr Adrian Rogers. His writings are equal to the writings of men like Warren Wiersbe and Lehman Strauss. You will find his notes very useful for Preaching or Teaching a Sunday School Class.