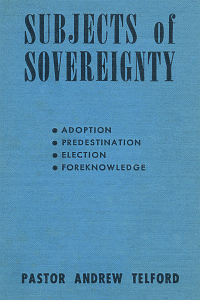 Product Details
Subjects of Sovereignty addresses the subjects of adoption, predestination, election, and foreknowledge. Written for the non-scholar, the book seeks to clearly explain these topics and demonstrate how a good understanding of them can yield practical applications for daily Christian living.
About the Author
Dr. Andrew Telford (1895-1997) was a pastor, teacher, and writer of the Word of God. Many of his books were written at the request of believers who were encouraged by his preaching and desired to have his sermon points in written form.
Endorsements
Dr. Andrew Telford was a remarkable man of God. A review of his life and ministry will reveal his dedication to the Lord's call, his demonstration of the Lord's gifts, and his determination in the Lord's service. Students of the Bible will benefit from his practical application of the Scriptures. Bible teachers will recognize his ability to formulate his thoughts. Preachers of the Word will appreciate his skill to alliterate his points. I commend his writings for your prayerful consideration.
Dr. Telford's use of alliteration is superb. His commentary on particular topics of the bible have been quoted by Dr Adrian Rogers. His writings are equal to the writings of men like Warren Wiersbe and Lehman Strauss. You will find his notes very useful for Preaching or Teaching a Sunday School Class.