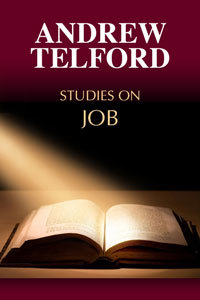 Andrew Telford Studies: Job
Highlights
Part of the Andrew Telford Studies series
Product Details
Studies in the Book of Job addresses the problem of piety and pain, or why the godly suffer. Written just as they were given at a Bible conference, the book follows this outline:
The Man before the Trial 1:1-5

His perfection 1:1
His prosperity 1:2-3
His piety 1:4-5

The Man in the Trial 1:6 to 41:34

The tests 1:6-19 and 2:1-8
The triumph 1:20-22 and 2:9-10
The trouble 4:1 to 41:34

The Man after the Trial 42:1-17

Job's penitence 1-6
Job's prayer 7-10
Job's prosperity 11-17
Endorsements
Dr. Andrew Telford was a remarkable man of God. A review of his life and ministry will reveal his dedication to the Lord's call, his demonstration of the Lord's gifts, and his determination in the Lord's service. Students of the Bible will benefit from his practical application of the Scriptures. Bible teachers will recognize his ability to formulate his thoughts. Preachers of the Word will appreciate his skill to alliterate his points. I commend his writings for your prayerful consideration.