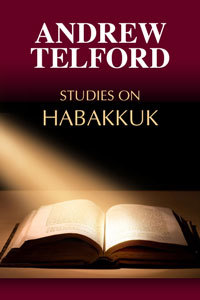 Andrew Telford Studies: Habakkuk
Highlights
Part of the Andrew Telford Studies series
Product Details
We live in perilous days. They are days of confusion in nearly every area of life. The events occurring around us not only startle and stun, but leave a lack of abilbity to evaluate conditions with real meaning. To find an answer to the continuing, bewildering, and baffling conditions of war and sin, we can turn to the Word of God. The prophet Habakkuk has given us, by divine inspiration, a filter by which to process history unfolding. This little book will bring an answer to many an aching heart regarding the dealings of God with sinful man.
This is not an exhaustive study of the content of Habakkuk, but an unfolding of its main truths with a measure of application. Some of the of the topics that Dr. Telford addresses are:
Unanswered prayer and unpunished iniquity
The uneased burden
The prophet's problem made complex
Faith waits for the answer
The doom of the proud
The prayer that meets the end
Trusting God in a confused world
About the Author
Dr. Andrew Telford (1895-1997) was a pastor, teacher, and writer of the Word of God. Many of his books were written at the request of believers who were encouraged by his preaching and desired to have his sermon points in written form.
Endorsements
Dr. Andrew Telford was a remarkable man of God. A review of his life and ministry will reveal his dedication to the Lord's call, his demonstration of the Lord's gifts, and his determination in the Lord's service. Students of the Bible will benefit from his practical application of the Scriptures. Bible teachers will recognize his ability to formulate his thoughts. Preachers of the Word will appreciate his skill to alliterate his points. I commend his writings for your prayerful consideration.